Wiki Targeted (Entertainment)
Play Sound
Ginjifuan Kazak (ギンジフ星人カザック, Ginjifu Seijin Kazakku)
Character History
From the Planet Ginjifu, Kazak is the former director of the Minos from the Cosmic Violence Group. He attempted to resurrect Wicked Life God Dezumozorlya and use its power to rule the world. This would also grant him enough leverage to take control of said criminal syndicate and become a major player in the intergalactic black market. To this end, he attacked the restaurant of a friend of the Abarangers and his Dino House as he had an artefact that could resurrect Dezumozorlya only for the Trinoid to call his friends and force Kazak to flee. The Abarangers tracked him to Tokyo only to run into the Dekarangers and escape as the Abarangers were arrested for assault and terrorism. He later resurrected the sealed away Trinoid 0: Saunaginnan to aid him in his goals.
Kazak resurrected Speckionian Genio and Reversian Succubus Hells to draw power which they succeeded in doing but his attempts to draw out Dezumozorlya from Hell failed since Mikoto Nakadai (AbareKiller) was the strongest in hill. He resurrected Barigean Milibar, Reversian Bon-Goblin Hells, and Kajimerian Ben G to aid him but they were all easily destroyed by the Dekarangers and Abarangers. Kazak and Saunaginnan were then cornered and Kazak was found guilty of one hundred and seventy nine counts of murder and various other crimes and seemingly destroyed by the combined Super Dino Bomber and D-Bazooka. However, he survived managed to escape into Heavy Industrial Machine PalletteView which he had obtained through his connection to the Cosmic Violence Group with the intent of conquering Earth with this robot instead whilst Saunaginnan enlarged using his Life Berry. Deleted by the combined efforts of Super Dekaranger Robo and Killer Abarenoh in thier Killer Drill Spin whilst being launched forward by Super Dekaranger Robo's Puncher Gatling. Kazak tried to use Saunaginnan as a "human" shield but it penetrated through him and destroyed his robot with him going down with it.
Personality
Forms assumed by Kazak
Modus and Arsenal
Shapeshifting-Ginifuan Kazak can shapeshift at will by throwing out his arms.
Notes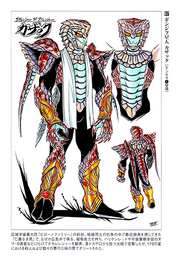 Portrayal
Behind the Scenes
His home planet is named after ​Kinji Fukasaku (

深作欣二

Fukasaku Kinji)'s given name
His name is derived from Kinji Fukasaku's family name.
He went unused for the S.P.D./Dino Thunder team-up.

The reason for being unused up because was the movie footage costing extra.
References
Community content is available under
CC-BY-SA
unless otherwise noted.