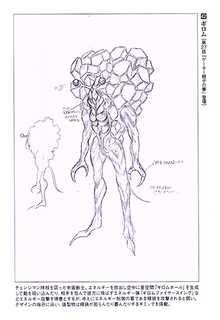 Gilom is a Space Beast of the Great Star League Gozma
Character History
A metallic Space Beast similar in form to a hermit crab. Though with the ability to manipulate electricity, his main ability is the Gilom Ball, a strange ball-like energy that can transport anything within itself, where it can either be released to someone else or have all energy within sucked dry. Gilom was used in a plot using Gator's wife Zoorii to gain the sympathy of the team, then using the Gilom Ball to steal a weapon in order for one of the Changeman to take it back (in this case, Shou's Griffon-Zooka) so to lure them and trap them in a cave for it's explosion. Shou ends up surviving by transforming while Zoori turns against the Gozma for the actions she had to perform just to make her husband come back to their homeworld. Gilom tries to suck the Changeman within the Gilom Ball, but they use the power of Earth Force to survive before being destroyed by the Power Bazooka. After Gyodai rebuilds him, Gilom uses his Gilom Ball to hold down Change Robo from attacking, but the team discover the weakness of the attack being two protrusions on Gilom's face, which they destroy with their vulcans before finishing him with Dengeki-ken.Ep. 27: Gator's Dream of Parent and Child
Personality
Gilom is very manipulative he has no problem using Zoorii to fool the chargmen.  
Modus and Arsenal
he was part of a plan to was mostly cared out by Zoorii who steol a weapon in order for one of the Changeman to take it back (in this case, Shou's Griffon-Zooka) so to lure them and trap them in a cave for it's explosion. after that faild Gilom tries to suck the Changeman within the Gilom Ball.
Notes
Portrayal
Behind the Scenes
References
Community content is available under
CC-BY-SA
unless otherwise noted.