Giganoid #9: Miracle (ギガノイド第9番 奇跡, Giganoido Kyuban: Kiseki, 36, 43): Phoenix-like beast that feeds off the desires of people. It could blast lasers out of its' eyes and create Illusions, such as putting people in a trance based illusion while he possessed a ship and creating a duplicate of MaxOhJa. Killed by Abarenoh. It was brought back by the Killer Giganoid and was once again killed by Abarenoh.
Notes
It was named after Joseph Haydn's 96th Symphony (The "Miracle").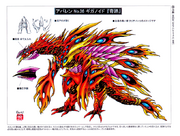 External Links
See Also
Community content is available under
CC-BY-SA
unless otherwise noted.