"General Havoc, at your service."
―General Havoc[src]
General Havoc was the brother of the space pirate Divatox, and showed up with his Space Base to deliver a Metallosaurus Zord that he had been constructing for her.
History
Havoc proved far more competent in his battles with the Turbo Rangers than Divatox, not only by defeating the Rangers with his Metallosaurus, but also by stealing the Turbo Megazord and abducting the Phantom Ranger.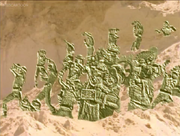 After his Metallosaurus was destroyed for the second time, he departed to build a new one. He appeared later in Power Rangers: In Space when the United Alliance of Evil launched a galactic scale attack. During Countdown to Destruction, he was seen conquering with King Mondo's forces, and when they were turned to sand and destroyed by Zordon's Energy Wave.

Personality
He is much more caring of his family than his sister is, caring about her, while she isn't bothered by any injuries Havoc sustains. However, he does not like Elgar, but is willing to put up with him. He is also much better in battle than his sister, being much more powerful, intelligent and strong, unlike his egotistical sister. He is presumably their mother's favorite child out of him and Divatox, but this may or may not include his and his sister's sibling who gave birth to Elgar.
Family
Powers and Abilities
Powers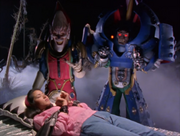 Shapeshifting: General Havoc could take on the form of anyone he wishes, as shown when he takes on Cassie's form to fool the Phantom Ranger
Abilities
to be added
Weaknesses
to be added
Arsenal
to be added
Behind the Scenes
Portrayal
For the majority his appearances, General Havoc is portrayed by Richard Cansino, while his second appearance was voiced by Tom Wyner.
Design
to be added
Etymology
to be added
Notes
In Carranger, Ritchihiker, General Havoc's counterpart has two forms; one with a blue helmet and a second one with a gold helmet. Only the latter is used in Power Rangers Turbo. The blue helmeted version can be seen in the Power Rangers Monopoly game, however.
See Also
References