Wiki Targeted (Entertainment)
Play Sound
"I hope you enjoyed your last sunrise, Doggie Cruger. I have navigated three galaxies to find you. We meet this afternoon for your final battle."
―General Benang
"You are charged with the destruction of five planets and for atrocities throughout the galaxy. You are charged with the disappearance of Aisynia Cruger, my wife!"
―Final verdict that's performed by Doggie Cruger.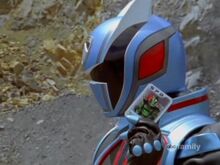 General Benaag is one of Gruumm's most powerful warriors and led the attack on Sirius when it was conquered. Doggie's wife Isinia was last seen in his custody, but a judgement scan says he didn't kill her. General Benaag is contained by the Shadow Saber and taken into custody by the Shadow Ranger.
Personality
To be added
Charges
Crimes against nature.
Crimes against Sirians.
Various war crimes (especially those related to raising a civilization to the ground).
Destruction of five planets.
Assault.
Mass murder.
Atrocities against the galaxy.
Murder.
Attempted murder.
Genocide.
Kidnapping.
Kidnapping of a police employe (Kat Manx).
Assault.
Conspiracy to commit murder (of Doggie Cruger)
Conspiracy to assassinate a police official (Doggie Cruger).
Assault of a police official.
Assault of a duly deputized agent of the law.
Terrorism.
Masterminding a terrorist attack (the Drill Robot's attack).
Assaulting a duly deputized officer of the law.
Blackmail.
Blackmail of a police official.
Property damage of police property (R.I.C.)
See Also
References
Community content is available under
CC-BY-SA
unless otherwise noted.