m

Tags: apiedit, Visual edit

Line 15:
Line 15:
 

==Plot==

 

==Plot==

 

With the damage to Speedor's Engine Cast from the mysterious Engines intervening in the fight between Engine-Oh G9 and Drill Banki rendering him unable to enlarge to help in combination for a while, an agitated Sōsuke runs off after learning from Carrigator that they may be ancient Engines. However, Sōsuke runs into Drill Banki who is also in a bad mood and is reluctantly sent by Yogostein to find the ancient Engines as well. During their battle, the ancient Engines arrive on the scene in a hit-and-run as Go-on Red chases after them, finding them resting in an abandoned switchyard. While this occurred, the others set up a plan to lure the Ancient Engines out by having Seiku-Oh and GunBir-Oh spar until a vexed Drill Banki decides to take out his frustrations for Yogostein out on the two combinations, Bearrv, and Bus-on. Learning that his friends are in danger after seeing the Ancient Engines have no intent to trust humans, Sōsuke decides to fight on his own in a battle where he has no chance to win. However, Go-on Red's determination and Speedor's pleas for his ancestors to give humans a chance touched Kishamoth as he takes T-Line and K-Line to battle Drill Banki at Go-on Red's side, forming Kyoretsu-Oh to scrap the Savage Machine Beast as Yogostein finally realizes the Engines are not the Horonderthal. Soon after the fight, the ancient Engines become Sōsuke's secondary partners.

 

With the damage to Speedor's Engine Cast from the mysterious Engines intervening in the fight between Engine-Oh G9 and Drill Banki rendering him unable to enlarge to help in combination for a while, an agitated Sōsuke runs off after learning from Carrigator that they may be ancient Engines. However, Sōsuke runs into Drill Banki who is also in a bad mood and is reluctantly sent by Yogostein to find the ancient Engines as well. During their battle, the ancient Engines arrive on the scene in a hit-and-run as Go-on Red chases after them, finding them resting in an abandoned switchyard. While this occurred, the others set up a plan to lure the Ancient Engines out by having Seiku-Oh and GunBir-Oh spar until a vexed Drill Banki decides to take out his frustrations for Yogostein out on the two combinations, Bearrv, and Bus-on. Learning that his friends are in danger after seeing the Ancient Engines have no intent to trust humans, Sōsuke decides to fight on his own in a battle where he has no chance to win. However, Go-on Red's determination and Speedor's pleas for his ancestors to give humans a chance touched Kishamoth as he takes T-Line and K-Line to battle Drill Banki at Go-on Red's side, forming Kyoretsu-Oh to scrap the Savage Machine Beast as Yogostein finally realizes the Engines are not the Horonderthal. Soon after the fight, the ancient Engines become Sōsuke's secondary partners.

 
+

==Cast==

−
 
 
+

*{{nihongo|[[Sosuke Esumi]]|江角 走輔|Esumi Sōsuke}}: {{nihongo|[[Yasuhisa Furuhara]]|古原 靖久|Furuhara Yasuhisa}}

 
+

*{{nihongo|[[Renn Kousaka]]|香坂 連|Kōsaka Ren}}: {{nihongo|[[Shinwa Kataoka]]|片岡 信和|Kataoka Shinwa}}

 
+

*{{nihongo|[[Saki Rouyama]]|楼山 早輝|Rōyama Saki}}: {{nihongo|[[Rina Aizawa]]|逢沢 りな|Aizawa Rina}}

 
+

*{{nihongo|[[Hant Jou]]|城 範人|Jō Hanto}}: {{nihongo|[[Masahiro Usui]]|碓井 将大|Usui Masahiro}}

 
+

*{{nihongo|[[Gunpei Ishihara]]|石原 軍平|Ishihara Gunpei}}: {{nihongo|[[Kenji Ebisawa]]|海老澤 健次|Ebisawa Kenji}}

 
+

*{{nihongo|[[Hiroto Sutou]]|須塔 大翔|Sutō Hiroto}}: {{nihongo|[[Hidenori Tokuyama]]|徳山 秀典|Tokuyama Hidenori}}

 
+

*{{nihongo|[[Miu Sutou]]|須塔 美羽|Sutō Miu}}: {{nihongo|[[Yumi Sugimoto]]|杉本 有美|Sugimoto Yumi}}

 
+

*{{nihongo|[[BOMPER]]|ボンパー|Bonpā|Voice}}: {{nihongo|[[Akiko Nakagawa]]|中川 亜紀子|Nakagawa Akiko}}

 
+

*{{nihongo|[[Engine Speedor]]|炎神スピードル|Enjin Supīdoru|Voice}}: {{nihongo|[[Daisuke Namikawa]]|浪川 大輔|Namikawa Daisuke}}

 
+

*{{nihongo|[[Engine Bus-on]]|炎神バスオン|Enjin Basuon|Voice}}: {{nihongo|[[Hisao Egawa]]|江川 央生|Egawa Hisao}}

 
+

*{{nihongo|[[Engine Bearrv]]|炎神ベアールV|Enjin Beārubui|Voice}}: {{nihongo|[[Miki Inoue]]|井上 美紀|Inoue Miki}}

 
+

*{{nihongo|[[Engine Carrigator]]|炎神キャリゲーター|Enjin Kyarigētā|Voice}}: {{nihongo|[[Kyousei Tsukui]]|津久井 教生|Tsukui Kyōsei}}

 
+

*{{nihongo|[[Land Pollution Minister Yogostein]]|害地大臣ヨゴシュタイン|Gaichi Daijin Yogoshutain|Voice}}: {{nihongo|[[Kiyoyuki Yanada]]|梁田 清之|Yanada Kiyoyuki}}

 
+

*{{nihongo|[[Water Pollution Minister Kegalesia]]|害水大臣ケガレシア|Gaisui Daijin Kegareshia}}: {{nihongo|[[Nao Oikawa]]|及川 奈央|Oikawa Nao}}

 
+

*{{nihongo|[[Air Pollution Minister Kitaneidas]]|害気大臣キタネイダス|Gaiki Daijin Kitaneidasu|Voice}}: {{nihongo|[[Mitsuaki Madono]]|真殿 光昭|Madono Mitsuaki}}

 
+

===Guest Cast===

 
+

*{{nihongo|[[Drill Banki]]|ドリルバンキ|Doriru Banki|Voice}}: {{nihongo|[[Chihiro Suzuki]]|鈴木千尋|Suzuki Chihiro}}

 

==[[Souls]]==

 

==[[Souls]]==

 

*[[Go-On Red]] -

 

*[[Go-On Red]] -
---
Revision as of 15:08, 11 September 2017

Primeval Engines (原始エンジン Genshi Enjin) is the thirty-third episode of Engine Sentai Go-Onger. It features the first appearance of Engine Gattai Kyouretsu-O.
Synopsis
TBA
Plot
With the damage to Speedor's Engine Cast from the mysterious Engines intervening in the fight between Engine-Oh G9 and Drill Banki rendering him unable to enlarge to help in combination for a while, an agitated Sōsuke runs off after learning from Carrigator that they may be ancient Engines. However, Sōsuke runs into Drill Banki who is also in a bad mood and is reluctantly sent by Yogostein to find the ancient Engines as well. During their battle, the ancient Engines arrive on the scene in a hit-and-run as Go-on Red chases after them, finding them resting in an abandoned switchyard. While this occurred, the others set up a plan to lure the Ancient Engines out by having Seiku-Oh and GunBir-Oh spar until a vexed Drill Banki decides to take out his frustrations for Yogostein out on the two combinations, Bearrv, and Bus-on. Learning that his friends are in danger after seeing the Ancient Engines have no intent to trust humans, Sōsuke decides to fight on his own in a battle where he has no chance to win. However, Go-on Red's determination and Speedor's pleas for his ancestors to give humans a chance touched Kishamoth as he takes T-Line and K-Line to battle Drill Banki at Go-on Red's side, forming Kyoretsu-Oh to scrap the Savage Machine Beast as Yogostein finally realizes the Engines are not the Horonderthal. Soon after the fight, the ancient Engines become Sōsuke's secondary partners.
Cast
Guest Cast
Notes
DVD releases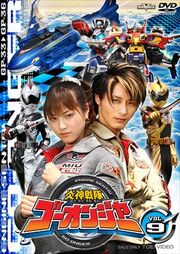 Engine Sentai Go-Onger Volume 9 features episodes 33-36: GP 33: Primeval Engines, GP 34: Devilish Woman, GP 35: Engines' Bonds, and GP 36: Sosuke… Eternally. [1]
See Also
References
Community content is available under
CC-BY-SA
unless otherwise noted.