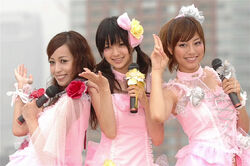 G3 Princess is the idol unit composed of gravure idols Rina Aizawa, Yumi Sugimoto and Nao Oikawa who played Saki Rouyama (Go-On Yellow), Miu Sutou (Go-On Silver) and Water Pollution Minister Kegalesia (Kega Yellow) respectively in Engine Sentai Go-Onger. They released a single entitled G3 Princess Lap -PRETTY LOVE☆Limited-.
G3 Princess also exists in-universe, composed of the actresses' respective characters. They appear in episode 31, Idol Debut, again in episode 45, Hatsuyume Plans!?, and return in the movie of Kaizoku Sentai Gokaiger, Kaizoku Sentai Gokaiger The Movie: The Flying Ghost Ship.
Members
G5 Prince
G5 Prince is a male counterpart to the G3 Princess group made up of the five male Go-Ongers (Sosuke, Renn, Hant, Gunpei & Hiroto). GP 45: Hatsuyume Plans!?
Notes
Alongside their appearance in The Flying Ghost Ship, each of the three G3 Princess members appears in one piece of Gokaiger media without the other two:
All members of G3 Princess are Go-Ongers.
Community content is available under
CC-BY-SA
unless otherwise noted.