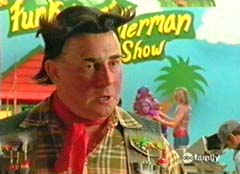 The Funky Fisherman is the host of the popular children TV Show Funky Fisherman show. He appears to be friendly on TV, but is actually nasty, unpleasant and quarrelsome jerk, who treats his friend Marty Mackerel and interns of the show abusively. Funky Fisherman called Marty to make a herb bath for him and screamed that Marty is late. Kira and Devin were taken as interns on the studio. Later Fisherman, Marty and his workers set a TV program, where they sang, danced and Marty did his Happy Fish dance. Elsa decided to kidnap Marty to turn him into the new monster and attacked the studio with Tyrannodrones. Kira tried to interfere but Elsa kidnapped Marty and accidentally zapped Funky Fisherman into the TV set. Kira brought Fisherman to Hayle's lab and Hayley realized that only energy that trapped Fisherman in the TV set is able to free him. Fisherman screamed and blamed Marty for his current state. Conner, Ethan, Kira and Tommy were shocked by Fisherman's selfishness and told that Marty is his friend and exactly he made Fisherman so famous. During the battle with Mad Mackerel, rangers brought TV set there and Fisherman again became nervous, questioning where is he. Tommy used the device, created by Hayley to deflect blast of Mackerel and free Fisherman. When Marty returned to normal, Fisherman apologized for being such jerk and became friends with Marty. Fisherman gave Marty packet of balls as a present. It's a Mad Mad Mackerel
Personality
Funky Fisherman seemed nice and friendly person on the TV, but actually he was selfish, nasty, unpleasant and quarrelsome jerk, who treated his friend Marty abusively. He blamed Marty for his zapping into the TV set. Fisherman radically changed after being saved by rangers. He became kind, friendly and nice individual and became friends with Marty.
Trivia
Appearance
Community content is available under
CC-BY-SA
unless otherwise noted.