"Kira...You must listen to me."

―Fossilador before controlling Kira´s mind.
"Yes! I'm free! My time has come at last!"

―Fossilador´s words when grown.
Fossilador is a mind controlling dinosaur skeleton, appears in Power Rangers Dino Thunder.
Character History
Fossilador is an experiment created by
Tommy Oliver
and
Anton Mercer
, but was discarded because it went out of control. Later
Mesogog
used him to brainwash
Kira
at Mercer's museum; into bringing him the missing bone, and so he can be revived. It takes the
Thundersaurus Megazord
to destroy the Fossilador once and for all.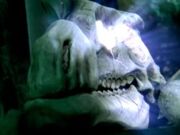 Powers and Abilities
Regeneration: He can regenerate his parts destroyed.
Controlling mind: He can controlling the mind of his enemies.
Exhalation: He can exhale his breath as gale.
Telepathy: Even if he is divided, he can communicate by telepathy.
Blast rays: He can blast rays.
See Also
Community content is available under
CC-BY-SA
unless otherwise noted.