Fly Mozoo (ハエモズー, Hae Mozū) (29) is the fly-theme Synthetic Beast of the Dark Science Empire Deathdark
Character History
Attacking a family eating melons, and knock-out (sleep). Knocked-out (sleep) a peace officer, gas station workers, business workers just to steal money. First fight in a quarry with Goggle V, Hae used Green Slim to distract Goggle V. Mazurka helped Hae get away. Followed by two kids (trying to release a homing pigeon) to a house in the middle of the woods. Was stopped by Goggle Black before attacking the two kids. Tried to smash Kanpei Kuroda and the kids with a landslide. Stopped Kanpei Kuroda from morphing by breaking the bracelet. Then left the scene. Fought Kanpei Kuroda on top of a deliver truck and won. Fought again in a quarry. Knocked Kanpei Kuroda off of a ledge. The other 4 Goggle V members stop another attack against Kanpei Kuroda by throw their sabres. Attack Goggle V by everything except for the slime but hosed off by Goggle V. Defeat by Goggle Victory Flash. Quickly revived by Hae Kong. Stamped out by a fly-swatter after attack Goggle Robo. Finally defeated by Earth Sword with Electron Galaxy Cut.
Personality
Arsenal
He can fly, emit knockout gas from his mouth, use explosive flashes from his eyes, and can secrete green sticky goo from his hands.
Behind the Scenes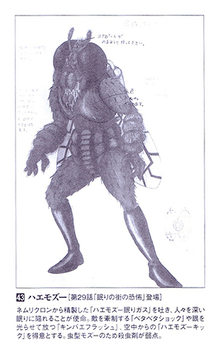 Portrayal
Notes
References
Community content is available under
CC-BY-SA
unless otherwise noted.