"Great, now in this scene or what?"

―Flashhead
Flashhead is a photographer monster who trapped his victims in rolls of film. He fought the Turbo Rangers (who were actually the Robot Rangers) and was destroyed by Rescue Megazord.
Biography
When Divatox saw Cassie and Ashley helping Bulk and Skull video tape the tennis lesson, she sent Flashhead to attack.
Powers and abilities
Flashhead has the ability turn anyone into a roll of film with his flash.
Notes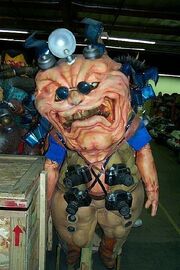 See Also
References