"At the very least...that woman is going to die!"
―Ferocious Knight D's final words before his supposed death.
"She's finally mine now. Amano Mikoto...the legendary princess!"
―D when revealing that he had survived.
"I'll take you all down when I go!"
―D when he grew after he snatched away Luckyuro's watering can.
"In the very end... I'm left suffering by this accursed song!"
―Ferocious Knight D's final words before his death.
Ferocious Knight D (獰猛の戦騎D, Dōmō no Senki Dī) (usually just referred to as D) is the main antagonist of Zyuden Sentai Kyoryuger: Gaburincho of Music.
He was a powerful Debo Knight who forced Zyudenryu Tobaspino to forge a partnership with him and became Deathryuger (デスリュウジャー, Desuryūjā).
Character History
Gaburincho of Music
One of the Deboth Army's first Knights, D is a dog-themed knight monster who wreaked havoc on ancient Earth. He fought against Torin and the Zyudenryu in the past. Attempted to control Tobaspino to wipe out the rest of the dinosaurs by driving it insane, Meeko's ancestor rose up and quelled Tobaspino's rampage and blood-lust. Tobaspino then defeated D with a stomp as both fell into a deep slumber. Reawakening in the present by Chaos and given fake Kyoryuger powers with the Deathryuger Zyudenchi, D now seeks revenge and plots to wipe out all life on Earth.
He appears and kidnaps Mikoto Amano. Deathryuger's goal is to use Meeko's voice and the secret legendary Zyudenchi, #00, to take control of Tobaspino once again while cutting his ties to the Deboth Army.[1] However, after being knocked out of SpinoDai-Oh, D falls to his death after being mortally wounded by Kyoryu Red Double Armed On. Zyuden Sentai Kyoryuger: Gaburincho of Music
The Return of the Ferocious Knight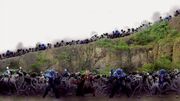 D eventually returns without his Deathryuger powers, presumably having lost them when Tobaspino broke free from his control, but overwhelmed with new powers he gained from the Darkness of the Land and armed with the War Spear-Sword and wearing the AceCape. He finds himself needing drinks of Restoration Water to keep himself in check. D had also escaped from the Darkness of the Land and orchestrates a scheme to use Mikoto's singing voice to raise an army of the dead to conquer the world. When the Kyoryugers foil his plans, D enlarges himself to destroy the world before he is hindered by Mikoto's singing as Spinodai-Oh destroys him with it's SpinoDai-Oh Brave Finish.
He complains about being forced to hear Meeko singing in even his final moments before exploding, marking the end of this truly sick and twisted villain once and for all. Brave 39: Full Array! The Ten Great Kyoryu Powers
Video Game appearances
Super Sentai Battle Base
Deathryuger is among the vast pantheon of Rangers which are available in the mobile game Super Sentai Battle Base
Forms
Height: 198 cm (49.5 m: giant)
Weight: 172 kg kg (425.0 t: giant)
Powers and Abilities
Ferocity Empowerment

As one of the Deboth Knights, D can empower himself with human anger, making him similar to Raging Knight Dogold and Resentful Knight Endolf.

Corruption Inducement

D was somehow shown to be able to corrupt Zyudenryu Tobaspino and Meeko on his own.

Restoration Water Generation

D can summon the restoration water on his own to grew himself.
Arsenal
War Spear-Sword (

ウォー槍刀

Wōsōdō): his personal sword that he manifested from his body during his fight with Kyoryu Red, Pink, and Violet after coming from the Darkness of the Land. Used for Final Movement Deboss Finish (

最終楽章デーボスフィニッシュ

Saishū Gakushō Dēbosu Finisshu).
AceCape (

エースケープ

Ēsukēpu

)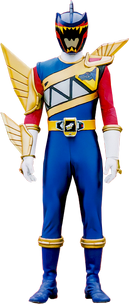 Arsenal
Mecha
Ranger Key

The Deathryuger Ranger Key (デスリュウジャーレンジャーキー, Desuryūjā Renjā Kī) is a Kyoryuger Ranger Key released as part of a set Deboth Ranger Keys in a Bandai Premium set. It is unknown if it will appear in a future crossover. Of course as with all Ranger Keys, should it exist, it would be able to transform one, i.e. one of the Gokaigers, into Deathryuger.
Behind the scenes
Portrayal
Conception
Ferocious Knight D was designed by character designer K-SuKe, who worked on the majority of the Deboth Army for Zyuden Sentai Kyoryuger.
Notes
How D survived in the film is never explained, but most likely his Deathryuger powers protected him from his seemingly fatal explosion, as he appears to the Kyoryugers completely unharmed.
D is the second Navy Ranger and the first Spinosaurus-themed Ranger.
D is the only Kyoryuger to not have "Kyoryu" in his Ranger title. Also, Deathryuger is the first (fully) evil Ranger to associate with the term used by the main team. This is because Kyoryugers are by definition partners of Zyudenryu, and he is a Kyoryuger in order to forcibly control Tobaspino. He is, however, not a Kyoryuger in terms of the team.
Deathryuger can use his boomerang as a flute similar to how Burai and Rouki used their weapons as a flute.
His Deathryuger suit would later be reused by Dai-kun for Kyoryu Navy, which with some difference, most notably the color and mask desighn being changed to remove the red and yellow highlights from around the visor.
Deathryuger is the second unique individual evil Ranger not to become good, immediately following Enter (Dark Buster) in the final episodes of Tokumei Sentai Go-Busters.

Deathryuger's scenario is the opposite of Enter's, who copied a good Sentai's powers and turned them evil, whereas D created fake evil Kyoryuger powers that later became good. Zyuden Sentai Kyoryuger: 100 YEARS AFTER
In both scenarios, the original design of the Sentai suit changed to match which side it was on, looking more sinister (for Enter) or good (for Dai-kun). Both villains also sport darker versions of the main colors used in a Sentai Team (Maroon for Red and Navy for Blue respectively.)
With Tobaspino's powers now being established as good for Dai-kun, this also makes Deathryuger the second villain to be an evil version of a Sentai leader (Kyoryu Navy), in which he was preceded by Enter, who was an evil version of Red Buster in the form of Dark Buster.

Deathryuger shares several similarities to various Riders from Kamen Rider Wizard:
D is the only blue Kyoryuger whose Zyudenryu doesn't form an arm as Tobaspino becomes the main torso of its combination.

Because of this, a combination of the three blue Kyoryugers mecha is possible, but wasn't used in the series.

D is the only evil Ranger to have a Ranger Key, albeit solely in merchandise form and not in-show.

Although DragonRanger, AbareKiller, and the Gouraigers may be considered evil rangers, they don't count since their 'evil' powers were only temporary, and thus switched to the good side.

Following the face theme of the Deboth Army, D represents feral facial expressions.
When D reveals his true face in Zyuden Sentai Kyoryuger: Gaburincho of Music, his head is black while in Brave 39, his head is red.
Following several members of the Deboth Army's motif from the Wizard of Oz novel, D's is based on Toto, Dorothy's pet dog of the novel.
D and Candelilla are the only Deboth Knights whose costume weren't repurposed as one of the generals of the Neo Deboth Army in Power Rangers Dino Force Brave.
For Power Rangers Dino Charge, his Deathryuger form wasn't adapted despite having a name in the toys' audio system - as Talon Ranger. Much later, the comics adapted him into Dark Ranger in form of none other than the comic counterpart of Heckyl. Only his monster form was used in the series proper.
Appearances
See Also
References
Community content is available under
CC-BY-SA
unless otherwise noted.