For the original TV version of this character, see Farkas Bulkmeier.
Farkas "Bulk" Bulkmeier is a classmate of the Power Rangers and one of the resident troublemakers at Angel Grove High School alongside his best friend Eugene "Skull" Skullovitch.
Character History
Bulk is a student at Angel Grove High School. He is known for being a bit of a bully and a Ranger fanatic, hosting the web series: Ranger Station, where he interviews classmates about the Power Ranger battles they witness.
Unlockly Heroes
When Rita Repulsa successfully has her monster trap the Power Rangers into its body, Zordon temporarily recruited Bulk and Skull to be Power Rangers using 'extremely rare' Power Coins. After they successfully defeat the monster, Alpha 5 removes their memories as no one must ever know they were ever Power Rangers.
Purple Mighty Morphin Ranger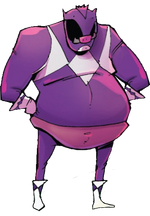 Arsenal
Zords
See Also
References
Community content is available under
CC-BY-SA
unless otherwise noted.