Episode 2: Leader Certification (リーダーの証明, Rīdā no Shōmei) is the second episode of Mashin Sentai Kiramager. It features the debut of Land Mage and Sky Mage.
Synopsis
Juru Atsuta, who was chosen to be the fifth Kiramager, is put in uniform and taken by Mabushina to CARAT headquarters for the first time. He is greeted by the other four members and Mr. Hakataminami, who all congratulate him by saying "Let's work well together, leader!" Huh? What?! Did they just call him their leader? In Crystalia, there is apparently a rule that states whoever is chosen by the Red Kiramai Stone will become the leader of the Kiramagers. It's not like he could say no, but just then the enemy initiates yet another sudden attack. Yodonheim's invasion apparently waits for no one. A strange monster with the head of a rugby ball has destroyed a section of the Kiramager's own city, claiming that a "Rugby Match of Hell" was about to begin. As the Kiramagers start to charge into battle, Juru tries to act like a leader.
Plot
to be added
Cast
Guest Cast
Suit actors
Errors
Notes
Viewership: 3.1%
As part of Super Hero Time, this episode aired alongside Kamen Rider Zero-One episode 27, I Will Not Give Up These Lives. Super Hero Time opened up with a disclaimer for the younger viewers in regards to the current outbreak happening in the world. [1]
Pre-Credits Scene: Muryou announces a rugby pitch between Sky Mage and Land Mage. The Mashin are none too pleased but Muryou hilariously pushes them away with the rugby ball he holds.
This episode reveals the name of the show's main villain and Yodonheim's overlord; Emperor Yodon.

Yodon's apparent silhouette appears in the opening.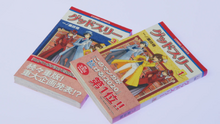 External Links
References
Community content is available under
CC-BY-SA
unless otherwise noted.