A Subterranean Beast's Tears (地底獣の涙… Chitei Jū no Namida) is the thirty-ninth episode of Kyoryu Sentai Zyuranger.
Synopsis
Bandora targets a creature awakened from underground whom the Zyurangers discover may be a victim instead of a mere monster.
Plot
An earthquake brings an underground monster Goda onto the surface. Despite its monstrous looks, Goda has a gentle heart. Goda just wants to protect its eggs. Yet, Bandora abuses Goda's power to defeat the Zyurangers.
Cast
Guest Cast
Notes
In the Power Rangers episode "The Yolk's on You!", Goda is killed by Ultimate Daizyuzin instead of Gouryuuzin.
In the Power Rangers episode, Goda's gender was changed to male.
DVD Releases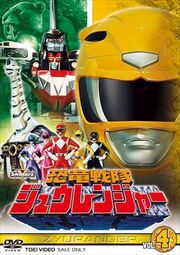 Kyoryu Sentai Zyuranger Volume 4 features episodes 31-40.[1]

The complete Zyuranger series was released in North America by Shout! Factory in 2015.

References
See also