A Subterranean Beast's Tears (地底獣の涙… Chitei Jū no Namida) is the thirty-ninth episode of Kyoryu Sentai Zyuranger.
Synopsis
Bandora targets a creature awakened from underground whom the Zyuranger discover may be a victim instead of a mere monster.
Plot
An earthquake brings an underground monster Goda onto the surface. Despite its monstrous looks, Goda has a gentle heart. Goda just wants to protect its eggs. Yet, Bandora abuses Goda's power to defeat Zyurangers.
Cast
Notes
DVD releases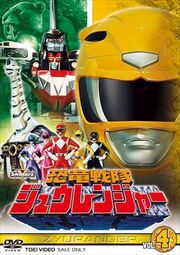 Kyoryu Sentai Zyuranger Volume 4 features episodes 31-40. [1]
The complete Zyuranger series was released in America by Shout! Factory in 2015.
References
See also