Smash It! The Mirror of Death (くだけ! 死の鏡 Kudake! Shi no Kagami) is the thirty-sixth episode of Kyoryu Sentai Zyuranger.
Synopsis
The Zyurangers and Lami head to Namegawa when a boy finds a treasure map that leads to a powerful mirror that destroys anyone or anything reflected in it.
Plot
Cast
Guest Cast
Notes
This episode is properly named unlike its Power Rangers counterpart, as the Monster did not have as much screentime as the evil mirror.
DVD Releases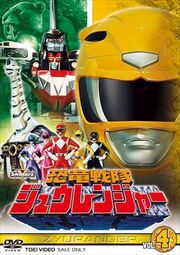 Kyoryu Sentai Zyuranger Volume 4 features episodes 31-40.[1]

The complete Zyuranger series was released in North America by Shout! Factory in 2015.

References
See also