The Three Punishment Sisters (おしおき三姉妹(シスターズ), Oshioki San Shisutāzuis) is the thirty-fifth episode of Ninja Sentai Kakuranger.
Synopsis
Tsuruhime reteams with two of her friends in order to save their sister and a school being used by a Yokai to turn them against humanity.
Plot
to be added
Cast
Guest Cast
Notes
Viewership: 5.2%
Eyecatch
This episode is a mini-reunion of actress Satomi Hirose with her co-stars from Yugen Jikkou Sisters Shushutorian, Noriko Tanaka and Kei Ishibashi. Shushutorian was a ninja-themed entry of the "Toei Fushigi Comedy Series" created by Shotaro Ishinomori, who also created Super Sentai; it aired originally in 1993, the year before Kakuranger.

During the preview in the previous episode, Tsuruhime nearly says that this is an episode of Yugen Jikkou but stops and corrects herself before it is completed.
Satomi Hirose's character in Shushutorian is one named "Hanako Yamabuki"; but due to her current role as Tsuruhime, a new Hanako was utilized for the main story of the episode.

During the investigation of the school being manipulated by Kamaitachi, the music class sings the song originally taught by Remi Hoshikawa in the opening episode of Chikyuu Sentai Fiveman; however, Sakura (the character portrayed by Ryo Narushima, who also portrayed Remi/FiveYellow) was not the one teaching the song, with it actually being done by her Flowery Kunoichi Team teammember Yuri.
Footage of Tsuruhime would appear as part of a montage of Sentai heroines in Gaoranger vs. Super Sentai, when Miku (MegaPink) revealed to Sae (GaoWhite) the ability of female heroes to Quick-Change.
DVD Releases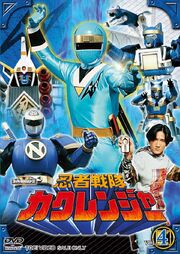 Ninja Sentai Kakuranger Volume 4 features episodes 34-43.[1]

The complete Kakuranger series was released in North America by Shout! Factory in 2016.

References
Community content is available under
CC-BY-SA
unless otherwise noted.