Ep. 30: Overthrow! High Spec (打倒!高スペック, Datō! Kō Supekku) is the thirtieth episode of Kishiryu Sentai Ryusoulger. It features the full debut of Kishiryu Pterardon in its Pit Mode. It also features a flashback of Master Green and Master Black.
Synopsis
Towa and Banba tell the others about Gaisoulg's true identity. However, Koh is the only one who thinks something else might be going on and decides to get close to Nada. Towa, believing in Koh's strength, decides to go with him to see Nada. However, an extremely tough, fast, and strong Minosaur appears in the city, and seems to have all his stats maxed out. The Ryusoulgers struggle to defeat the Minosaur, just when Gaisoulg appears and directly attacks the Minosaur.
Plot
to be added
Cast
Guest Cast
Suit Actors
Form Changes and Collectibles Used
Errors
Notes
DVD/Blu-ray releases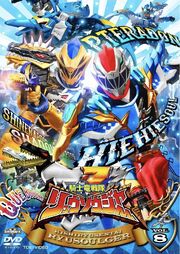 Kishiryu Sentai Ryusoulger Volume 8 features episodes 29-32: Ep. 29: Canalo's Marriage, Ep. 30: Overthrow! High Spec, Ep. 31: Melody From The Sky and Ep. 32: When The Rain of Hatred Ceases.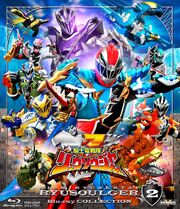 Blu-ray Collection 2 comes 16 episodes.

See Also
External links
References