Ep. 29: The Ruler of the Rulers (王者の中の王者, Ōja no naka no Ōja) is the twenty-ninth episode of Doubutsu Sentai Zyuohger. The 2000th episode in total of the Super Sentai Series, it is the concluding part of a two-part arc featuring the return of the protagonists of the previous anniversary series, Kaizoku Sentai Gokaiger, in commemoration of the 2000th episode milestone as well as the 40th anniversary of Super Sentai. It features the full debut of Zyuoh Whale.
Synopsis
The man in the red coat reveals himself to be the legendary Captain Marvelous of the rumored Space Pirates! He came to Earth searching for an ultimate treasure, but just what could that treasure be?! It was the crystal that supported the Zyuman's World, the treasure of the Zyuman, the Grand King's Credential! Surprisingly, it has the power to unleash the Legendary Behemoth that Bangray seeks out to slay! Who will take the treasure with their own hands?! The other pirates gather as well! Now it's Bangray and the revived Sentai villains vs the Gokaigers and the Zyuohgers!
Plot
to be added
Cast
Guest Cast
Suit Actors
Forms Used
Gokai Changes
Gokai Changes in The Monarch of the Monarchs:
If going strictly by the method established by Gaoranger, celebrating Super Sentai's anniversary on every fifth team rather than year, all the anniversary Red Rangers are featured in a Gokai Change in this two-parter (save for Gokai Red and Zyuoh Eagle, used by their original users):
During the first all-red Gokai Change, Gokai Yellow uses the male Shinken Red key to transform, instead of using the Princess Shinken Red key. It is the only time the regular Shinken Red key was used by a female Gokaiger.
Errors
Bangray copied Z, Dokoku Chimatsuri, and Deboth from Marvelous' memory, when Marvelous had never actually met any of them. However, Dokoku did appear in Super Hero Taisen and Super Hero Taisen Z, both of which had him fighting against various heroes, including Marvelous.
During Don's explanation of previous 39 Super Sentai teams, the footage for 34 teams before Gokaiger was using the footage of Black Cross King's Ranger Key Clones instead of the footage from the Great Legend War. Thus, the Goseigers were the only team that was not included in the flashback.
Notes
DVD/Blu-ray Releases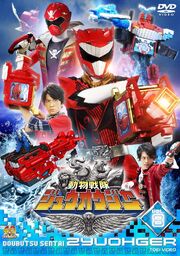 Doubutsu Sentai Zyuohger Volume 8 features episodes 28-31: Ep. 28: The Space Pirates Return, Ep. 29: The Monarch of the Monarchs, Ep. 30: The Legendary Megabeast and Ep. 31: When the Megabeast Stands.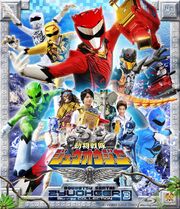 Blu-ray Collection 3 comes with 12 episodes.

External links
References