(16 intermediate revisions by one other user not shown)
Line 1:
Line 1:
 

{{ArticleZyuohger|episode}}

 

{{ArticleZyuohger|episode}}

 

{{EpisodeInfo

 

{{EpisodeInfo

−

|image = Zyuoh 20.jpg

+

|image = Zyuoh.jpg

 

|epcode = 20

 

|epcode = 20

 

|season = Doubutsu Sentai Zyuohger

 

|season = Doubutsu Sentai Zyuohger

Line 10:
Line 10:
 

|next = Ep. 21: Prison Break

 

|next = Ep. 21: Prison Break

 

}}

 

}}

 
⚫
−
 
⚫
 
 
 
 

==Synopsis==

 

==Synopsis==

Line 27:
Line 26:
 

*{{nihongo|[[Misao Mondo]]|門藤 操|Mondō Misao}}: {{nihongo|[[Naoki Kunishima]]|國島 直希|Kunishima Naoki}}

 

*{{nihongo|[[Misao Mondo]]|門藤 操|Mondō Misao}}: {{nihongo|[[Naoki Kunishima]]|國島 直希|Kunishima Naoki}}

 

*{{nihongo|[[Ginis]]|ジニス|Jinisu|Voice}}: {{nihongo|[[Kazuhiko Inoue]]|井上 和彦|Inoue Kazuhiko}}

 

*{{nihongo|[[Ginis]]|ジニス|Jinisu|Voice}}: {{nihongo|[[Kazuhiko Inoue]]|井上 和彦|Inoue Kazuhiko}}

−

*{{nihongo|[[Azarudo]]|アザルド|Azarudo|Voice}}: {{nihongo|[[Jouji Nakata]]|中田 譲治|Nakata Jōji}}

+

*{{nihongo|[[]]|アザルド|Azarudo|Voice}}: {{nihongo|[[Jouji Nakata]]|中田 譲治|Nakata Jōji}}

−

*{{nihongo|[[Cubar]]|クバル|Kubaru|Voice}}: {{nihongo|[[Mitsuo Iwata]]|岩田 光央|Iwata Mitsuo}}

+

*{{nihongo|[[]]|クバル|Kubaru|Voice}}: {{nihongo|[[Mitsuo Iwata]]|岩田 光央|Iwata Mitsuo}}

−

*{{nihongo|[[Nalia]]|ナリア|Naria|Voice}}: {{nihongo|[[Minako Kotobuki]]|寿 美菜子|Kotobuki Minako}}

+

*{{nihongo|[[]]|ナリア|Naria|Voice}}: {{nihongo|[[Minako Kotobuki]]|寿 美菜子|Kotobuki Minako}}

 

===Guest Cast===

 

===Guest Cast===

 

*{{nihongo|[[Bowlingam]]|ボウリンゲン|Bouringen|Voice}}: {{nihongo|[[Subaru Kimura]]|木村 昴|Kimura Subaru}}

 

*{{nihongo|[[Bowlingam]]|ボウリンゲン|Bouringen|Voice}}: {{nihongo|[[Subaru Kimura]]|木村 昴|Kimura Subaru}}

Line 35:
Line 34:
 

*{{nihongo|[[Crocodile Man]]|ワニ男|Wani Otoko|Voice}}: {{nihongo|[[Mitsuaki Kanuka]]|かぬか 光明|Kanuka Mitsuaki}}

 

*{{nihongo|[[Crocodile Man]]|ワニ男|Wani Otoko|Voice}}: {{nihongo|[[Mitsuaki Kanuka]]|かぬか 光明|Kanuka Mitsuaki}}

 

*{{nihongo|[[Wolf Man]]|狼男|Ōkami Otoko|Voice}}: {{nihongo|[[Hidenori Takahashi]]|高橋 英則|Takahashi Hidenori}}

 

*{{nihongo|[[Wolf Man]]|狼男|Ōkami Otoko|Voice}}: {{nihongo|[[Hidenori Takahashi]]|高橋 英則|Takahashi Hidenori}}

 
⚫
−
 
⚫
 
 

*[[Yamato Kazakiri|Zyuoh Eagle]]: {{nihongo|[[Kosuke Asai]]|浅井 宏輔|Asai Kōsuke}}

 

*[[Yamato Kazakiri|Zyuoh Eagle]]: {{nihongo|[[Kosuke Asai]]|浅井 宏輔|Asai Kōsuke}}

 

*[[Sela|Sela, Zyuoh Shark]]: {{nihongo|[[Ryoko Gomi]]|五味 涼子|Gomi Ryōko}}

 

*[[Sela|Sela, Zyuoh Shark]]: {{nihongo|[[Ryoko Gomi]]|五味 涼子|Gomi Ryōko}}

Line 45:
Line 43:
 

*[[Tousai Zyuoh]]: {{nihongo|[[Yohei Fujita]]|藤田 洋平|Fujita Yohei}}

 

*[[Tousai Zyuoh]]: {{nihongo|[[Yohei Fujita]]|藤田 洋平|Fujita Yohei}}

 

*[[Ginis]]: {{nihongo|[[Naoko Kamio]]|神尾 直子|Kamio Naoko}}

 

*[[Ginis]]: {{nihongo|[[Naoko Kamio]]|神尾 直子|Kamio Naoko}}

−

*[[Nalia]], [[Wolf Man]]: {{nihongo|[[Yuichi Hachisuka]]|蜂須賀 祐一|Hachisuka Yūichi}}

+

*[[]], [[Wolf Man]]: {{nihongo|[[Yuichi Hachisuka]]|蜂須賀 祐一|Hachisuka Yūichi}}

−

*[[Azarudo]]: {{nihongo|[[Jiro Okamoto]]|岡元 次郎|Okamoto Jirō}}

+

*[[]]: {{nihongo|[[Jiro Okamoto]]|岡元 次郎|Okamoto Jirō}}

−

*[[Cubar]]: {{nihongo|[[Riichi Seike]]|清家 利一|Seike Riichi}}

+

*[[]]: {{nihongo|[[Riichi Seike]]|清家 利一|Seike Riichi}}

 

*[[Bowlingam]], [[Crocodile Man]]: {{nihongo|[[Masaru Ōbayashi]]|大林 勝|Ōbayashi Masaru}}

 

*[[Bowlingam]], [[Crocodile Man]]: {{nihongo|[[Masaru Ōbayashi]]|大林 勝|Ōbayashi Masaru}}

 

*[[Rhino Man]]: {{nihongo|[[Shinsuke Kusano]]|草野 伸介|Kusano Shinsuke}}

 

*[[Rhino Man]]: {{nihongo|[[Shinsuke Kusano]]|草野 伸介|Kusano Shinsuke}}

Line 62:
Line 60:
 
 
 

==Forms Used==

 

==Forms Used==

−

*[[Yamato Kazakiri|Zyuoh Eagle]] - Zyuoh Gorilla (x2)

+

*[[Yamato Kazakiri|Zyuoh Eagle]] - Zyuoh Gorilla (x2)

−

*[[Sela|Zyuoh Shark]] - N/A

+

*[[Sela|Zyuoh Shark]] - N/A

−

*[[Leo (Zyuohger)|Zyuoh Lion]] - N/A

+

*[[Leo (Zyuohger)|Zyuoh Lion]] - N/A

−

*[[Tusk|Zyuoh Elephant]] - N/A

+

*[[Tusk|Zyuoh Elephant]] - N/A

−

*[[Amu|Zyuoh Tiger]] - N/A

+

*[[Amu|Zyuoh Tiger]] - N/A

 

*[[Misao Mondo|Zyuoh The World]] - Wolf Form (x2), Crocodile Form (x2), Great Instinct Awakened

 

*[[Misao Mondo|Zyuoh The World]] - Wolf Form (x2), Crocodile Form (x2), Great Instinct Awakened

 
 
 

==Errors==

 

==Errors==

 
+

*[[File:Episode 20's deleted scene.jpg|thumb|The deleted scene for episode 20]]In the episode preview in Episode 19, it was shown that Ginis breaks the glass of wine but however, in the acutal episode, it wasn't shown.

−

to be added

 
 
 
 

==Notes==

 

==Notes==

 

*As part of [[Super Hero Time]], this episode aired alongside ''{{KR|Kamen Rider Ghost}}'' episode 38, ''{{KR|Resurrection! Hero's Soul!}}''. The next episode of Kamen Rider Ghost, ''{{KR|Opposition! Father & Daughter!}}'' aired alone the following week to make way for the US Womens Open.

 

*As part of [[Super Hero Time]], this episode aired alongside ''{{KR|Kamen Rider Ghost}}'' episode 38, ''{{KR|Resurrection! Hero's Soul!}}''. The next episode of Kamen Rider Ghost, ''{{KR|Opposition! Father & Daughter!}}'' aired alone the following week to make way for the US Womens Open.

 
+

*'''Viewership''': 4.1%

 

*'''Hide-and-Seek in closing credits'''

 

*'''Hide-and-Seek in closing credits'''

 

**'''Animal''': {{nihongo|{{W|Japanese Raccoon Dog}}|ホンドタヌキ|Hondotanuki}}

 

**'''Animal''': {{nihongo|{{W|Japanese Raccoon Dog}}|ホンドタヌキ|Hondotanuki}}

−

**'''Cube''': Blue

+

**'''Cube''': Blue

−

*'''Animal grouping in opening narration'''

 
−

**''Earth...home to countless forms of life. One human and four Zyumen have met each other, forming their own '''gaze''' to defend this planet!''

 
 

*This is the first time Zyuoh The World changes from

 

*This is the first time Zyuoh The World changes from

 

**Rhinos Form to Crocodile Form

 

**Rhinos Form to Crocodile Form

Line 84:
Line 81:
 

**Wolf Form to Rhinos Form

 

**Wolf Form to Rhinos Form

 

*This is the first episode, since its debut, where Cube Gorilla doesn't appear. It is also the first episode where Wild ZyuohKing, since its debut, doesn't appear.

 

*This is the first episode, since its debut, where Cube Gorilla doesn't appear. It is also the first episode where Wild ZyuohKing, since its debut, doesn't appear.

 
+
 
+

==DVD/Blu-ray Releases==

 
+

[[File:DSTD09576-d.jpg|thumb|''Zyuohger'' Vol. 6 DVD]]

 
+

Doubutsu Sentai Zyuohger Volume 6 features episodes 20-23: ''Ep. 20: Monarch of the World'', ''[[Ep. 21: Prison Break]]'', ''[[Ep. 22: Awakening? Is it Wrong?]]'' and ''[[Ep. 23: Megabeast Hunter]]''.{{-}}

 
+

[[File:816sx8leiFL. SL1378 .jpg|thumb|''Zyuohger'' Collection 2, Blu-ray]]

 
+

Blu-ray Collection 2 comes with 12 episodes.{{-}}

 
+
 
⚫
 
 
 

==External links==

 

==External links==

 

*[http://www.tv-asahi.co.jp/zyuoh/story/0020/ TV Asahi's official preview for 世界の王者]

 

*[http://www.tv-asahi.co.jp/zyuoh/story/0020/ TV Asahi's official preview for 世界の王者]

 

*[http://www.toei.co.jp/tv/zyuohger/story/1207638_2514.html Toei TV's official episode guide for 世界の王者]

 

*[http://www.toei.co.jp/tv/zyuohger/story/1207638_2514.html Toei TV's official episode guide for 世界の王者]

⚫
 
---
Revision as of 00:43, 7 September 2019
Ep. 20: Monarch of the World (世界の王者 Sekai no Ōja) is the twentieth episode of Doubutsu Sentai Zyuohger. It features Misao Mondou's first on-screen transformation and his roll call.
Synopsis
With Misao Mondo finally free from Ginis' brainwashing, Yamato asked him to join the team. However, Misao is reluctant to join because of his previous actions, claiming that he is not suited to be their ally. But Misao was later asked to join again by Yamato as he needed his help to fight the next player from Ginis, who captured Sela, Leo, Tusk, and Amu.
Plot
to be added
Cast
Guest Cast
Suit Actors
Forms Used
Errors
Notes
As part of Super Hero Time, this episode aired alongside Kamen Rider Ghost episode 38, Resurrection! Hero's Soul!. The next episode of Kamen Rider Ghost, Opposition! Father & Daughter! aired alone the following week to make way for the US Womens Open.
Viewership: 4.1%
Hide-and-Seek in closing credits
This is the first time Zyuoh The World changes from

Rhinos Form to Crocodile Form
Crocodile Form to Wolf Form
Wolf Form to Rhinos Form

This is the first episode, since its debut, where Cube Gorilla doesn't appear. It is also the first episode where Wild ZyuohKing, since its debut, doesn't appear.
DVD/Blu-ray Releases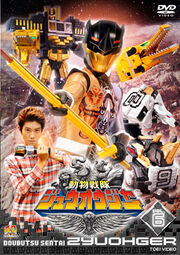 Doubutsu Sentai Zyuohger Volume 6 features episodes 20-23: Ep. 20: Monarch of the World, Ep. 21: Prison Break, Ep. 22: Awakening? Is it Wrong? and Ep. 23: Megabeast Hunter.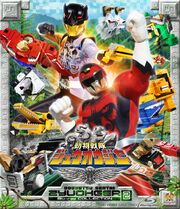 Blu-ray Collection 2 comes with 12 episodes.

References
External links
Community content is available under
CC-BY-SA
unless otherwise noted.