I'm the Young Noble!! (俺は貴公子だ!! Ore wa Kikōshi da!!) is the fourteenth episode of Ninja Sentai Kakuranger. This episode introduces Young Noble Junior, the new leader of the Yokai ranks working with the previously introduced Professor Yugami in bringing order to their forces.
While the Kakurangers battle Keukegen, a new enemy named Young Noble Junior appears to take proper command of the Yokai forces.
to be added
Guest CastEdit
Eyecatch
Viewership: 3.1%

With a rating of 3.1%, this was the lowest rated episode of Kakuranger, 2.6% below the series average.
DVD ReleasesEdit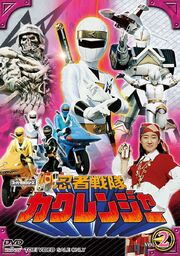 Ninja Sentai Kakuranger Volume 2 features episodes 12-22.[1]

The complete Kakuranger series was released in North America by Shout! Factory in 2016.

ReferencesEdit