Papa's a Vampire!? (パパは吸血鬼!? Papa wa Kyūketsuki!?) is the twelfth episode of Kyoryu Sentai Zyuranger.
Synopsis
Dan protects a girl who becomes caught within a Dora Monster's illusion to think her father's a vampire so Tottopat can suck her blood.
Plot
Dan meets a tomboyish girl named Michi, who wants her wimpy policeman father to be a hero. Dora Argus makes Michi hallucinate to think her father is Dracula, a legendary vampire.
Cast
Guest Cast
Notes
Errors
When the Zyurangers surround Dora Argus, some of the Zyurangers can be seen already falling back before Dora Argus blasts them.
DVD Releases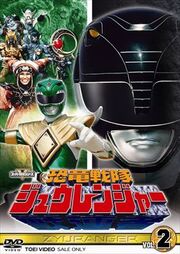 Kyoryu Sentai Zyuranger Volume 2 features episodes 11-20.[1]

The complete Zyuranger series was released in North America by Shout! Factory in 2015.

References
See Also