"I hate adults!"
―Final words before Death
Envy Chiruda (エンビィ・チルダ, Enbyi Chiruda) is a swallow-themed Gangler Monster from the Interdimensional Crime Group Gangler, equipped with the "Le porte-tempête/The storm holder" treasure from the Lupin Collection.
Physical Appearance
Envy Chiruda's head is a green swallow claw grabbing a brown nest full of white baby skeletal swallows, his body has a black swallow head with a yellow beak, under the swallow head is a Gangler safe, his white arms has black wings on it, his legs are green leak legs, and his weapon the Super Soup Spoon is a yellow frying pan metal club.
Character History
to be added
Personality
He thinks kids are easier to push around and really hates adults.
Powers and Abilities
Age Reversal: He can reverse a person's age by shooting six pink light beams from his bird nest-style head.
Whirlwind Creation: Due to the "Le porte-tempête/The storm holder" treasure equipped in his safe, he can create whirlwinds for attacks or for escaping.
Flight: When Envy's a giant, he can fly in the air without wings.
Arsenal
Super Soup Spoon (スーパースープスプーン Sūpā Sūpu Supūn): A frying pan-style metal club Envy utilized for combat and unleashing energy slashes.
Behind the Scenes
Portrayal
Profile
Height: 187 cm (Giant: 46.8 m)
Weight: 202 kg (Giant: 505.0 kg)
Criminal Record: Forced Age Reduction
Lupin Collection: "Le porte-tempête/The storm holder" Industrial Turbo Fan
Gangler Safe Location: Chest
Password: 3-8-6
Notes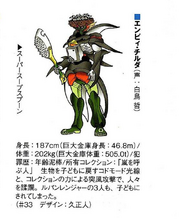 Animal Theme: Swallow
Possible Prehistoric Basis: Resoviaornis
Envy Chiruda's suit is a rebuilt, remodified, and repainted version of Rabroom Jaws' suit.
His name comes from the Japanese word for swallowtail (

燕尾

Enbi

).
He shares the same power as Shadow Kaijin Clock Shadow. (although Clock Shadow technically reverted the ToQgers into their real selves, since they were still kids).

Similar to Clock Shadow, the more dose the victims take, the younger (s)he will become.

Envy Chiruda's age manipulation ability is the exact opposite of Ryugu Tamatebacco's age manipulation ability, being that Ryugu turns people old, whereas Envy turns people into children.
Envy Chiruda's first name is one of the seven sins.
References
Community content is available under
CC-BY-SA
unless otherwise noted.