For the minor character from Power Rangers: Zeo, see Emily (Zeo)
"Yellow Ranger, ready!"
―Yellow Samurai Ranger's Roll Call
Emily is Samurai Ranger Earth, the Yellow Samurai Ranger of Power Rangers Samurai. She is innocent, sweet and the youngest of the Rangers. As Yellow Ranger, she pilots the Ape FoldingZord and controls the element of Earth.
Emily is a sweet, innocent country girl who was never supposed to be the Yellow Samurai Power Ranger. It was her older sister, Serena, who was destined for the squad, but an illness forced Emily to take her place. Although she is a bit of a fish out of water, the passion of the team and the bustle of the city inspires Emily to train hard and make her sister proud.
Biography
Samurai and Super Samurai
In Sticks and Stones, it was revealed that, as a young girl, Emily was said to be a crybaby and was often picked on by her peers. When her sister, who was originally going to be the Yellow Ranger, got ill, Emily was chosen as the Yellow Ranger, and promised not to cry ever again. This helped her teach her teammates how to not be affected by Negatron.
She joins the team in Origins, and her best friend ends up being Mia, the Pink Samurai Ranger.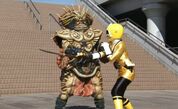 It's often seen she may have a crush on Mike, the Green Samurai Ranger. Near the end of Clash of the Red Rangers, Scott, the Red RPM Ranger, told Mike that he "sees the way Emily looks at Mike".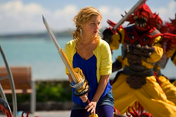 She later on helps Mike fight a Nighlok, when the other Rangers are swapped with inanimate objects, when the Nighlok grew, Mike used the Black Box and summoned the Claw Armor Megazord. They agree to "never fight another Nighlok together alone again".

Trading Places
Her greatest time to shine came when a Nighlok caused extreme hunger and thirst in all the Rangers, save for her. She battled the Nighlok one-on-one, proving she's tough, and a strong fighter, even without the others. During this battle, she used the Black Box for the first time.

The Strange Case of the Munchies
In Samurai Forever, after defeating Master Xandred along with her team, Emily goes home to take care of Serena at home. Mike goes with Emily to "help her move things." But it is unknown if they started dating since they hold hands at the end.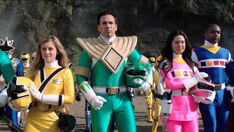 Super Megaforce
Emily and the other Samurai Rangers returned as part of the army of Legendary Rangers that helped the Mega Rangers defeat the Armada once and for all, fighting in a huge battle against hundreds of X Borgs and dozens of Bruisers. She was one of the Rangers who saluted the Mega Rangers
Split History
Shattered Grid
When events set into motion by Lord Drakkon caused the timeline to split into pocket universe, each anchored on a powerset, the Samurai Rangers were split off into their own pocket universe. Lord Drakkon launches a surprise attack and the Rangers get separated and captured. She was later seen in Promethea, when it was already in another dimension.
When the timeline was restored, so was Emily.
Yellow Samurai Ranger
As the Yellow Ranger, Emily has access to multiple modes.
Morph and Roll Call
Family
Personality
Emily is innocent, sweet, tomboyish and the youngest of the Rangers. As Yellow Ranger, she pilots the Ape FoldingZord and controls the element of Earth. Having grown up teased due to her tendency to cry, Emily tends to be shy around others. She suffers from a lack of self-confidence and as a result doesn't say much despite her desire to help those around her. Her sister Serena taught Emily how to de-sensitize herself to criticism. While the insults do hurt her, Emily is able to steel herself past all manner of degradation to achieve her current objective. Emily has also demonstrated moderate acting ability; as seen during her dealings with Bulk and Spike.
She seems to have a romantic interest in her friend and ally Mike.
Ranger Key

The Yellow Samurai Ranger Key is Emily's personal ranger key. This key along with the majority of the Core Ranger Keys are seen lining the Command Center's interior walls. This key is mainly used by Gia Moran (Super Megaforce Yellow) who uses it to fight as the Yellow Samurai Ranger.
Gallery
Behind the Scenes
Portrayal
Notes
Appearances
References
See Also
Community content is available under
CC-BY-SA
unless otherwise noted.