"It's Morphin Time! Hyper Force! Blue! Ready! Power Up!"

―morphing call
Edward 'Eddie' Banks is HyperForce Blue.[1]
Character History
Eddie was an enthusiastic cadet at Time Force Academy who was excited to meet Professor Scotts, asking her multiple questions about her time as a Ranger and her battles with Ransik. He was in awe after the attack on the Academy to see Jen morph into the Pink Time Force Ranger.
Receiving Zordon's call through the Morphin Grid, the six HyperForce Rangers were among those who rallied to his pocket dimension for the final stand against Lord Drakkon. Mighty Morphin Power Rangers (Boom! Studios) Issue 29
HyperForce Blue
Arsenal
Zords
Personality
Eddie is an easy going and enthusiastic cadet who idolizes the Power Rangers, showing a great amount of interest when Professor Scotts did a lecture at the Academy. He is very knowledgeable on history to an extent and uses that to help his team, such as knowing what Halloween is even though by 3016 that particular holiday is no longer celebrated, though in rare cases he gets certain facts wrong like believing that costumes worn on Trick or Treat were actual skins primitive people wore on top of their bodies. Eddie is a fan of old movies from historic periods, his personal favorite being movies of the 1990s.
RPG Bio:  Happy Go Lucky, Team Player, History Nerd[2]
Behind the Scenes
Portrayal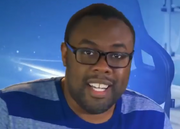 Eddie is portrayed by Andre Meadows.
Notes
Eddie is the second Ranger to use a snake motif in Power Rangers after Jake Holling and the first snake-themed Ranger who is a Blue Ranger.
Eddie's last name recalls that of the actress that played Rita Repulsa in the Power Rangers movie, Elizabeth Banks.
Eddie's lineage has been traced back to Arthurian Times, where his ancestor was briefly entranced by a siren in Episode 11: A Ranger in King Arthur's Court

Another ancestor of Eddie's, Johnny Banks was in Newtech City 2025, whom Eddie was mistaken for.
Relations
Marv and Eddie are best friends.
Eddie and Vesper have feelings for one another. Vesper gifted Eddie a blue wrench and they call each other "Ranger Buds", and also have a little song they sing about it.  Eddie nearly confessed his love before fainting due to excessive damage she dealt to him (while under the influence of the Venjix Virus).
(TBA)
(TBA)
(TBA)
Appearances
References
Community content is available under
CC-BY-SA
unless otherwise noted.