A list of merchandise for the 7th Super Sentai series Kagaku Sentai Dynaman.[1]
Roleplay Items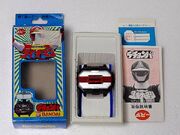 Dechonpa Dyna Brace (デチョンパ ダイナブレス, Dechonpa Daina Buresu): The team's transformation brace that was released as part of Bandai's Dechonpa Anime Watch line. Opening the cover reveals a LCD screen that displays the time and an image of the Dynamen.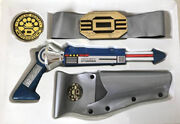 Dyna Rod Box (ダイナロッドBOX, Daina Roddo Bokkusu): A set containing a Dyna Rod, holster, belt buckle, and chest badge. The Dyna Rod can transform between gun and sword modes and the tip extends outwards with the press a button.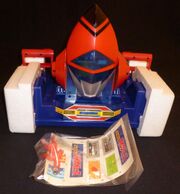 Electronic Command Dynabase (電子指令 ダイナベース, Denshi Shirei Daina Bēsu): A playset of Dyna Robo's cockpit. A mini figurine of Dyna Red is included. Several sounds can be activated with the two levers and buttons.

DX Mecha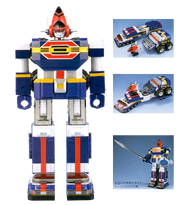 Dyna-in-Box GB-96 DX Chogokin Dyna Robo (

ダイナインボックス GB-96 DX 超合金 ダイナロボ

Daina in Bokkusu GB-96 Derakkusu Chōgōkin Daina Robo

)[2]
Big Scale DyJupiter (

ビッグスケール ダイジュピター

Biggu Sukēru Daijupitā

)[3]
Box Art Gallery
Action Figures
Chogokin Figures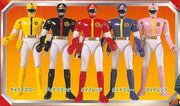 Five Chogokin Style figures that are all designated as GB-95. Each figure comes with a Dyna Rod.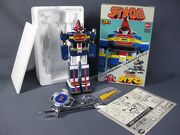 GC-97 Chogokin Standard Dyna Robo: A non-transforming Dyna Robo figure. Two missile launchers are revealed when folding the feet down. It includes the Science Sword and the Dyna Shield. It was later released overseas as under Bandai America's "Godaikin" label.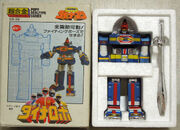 GC-98 Chogokin Dyna Robo Real Type: A die-cast figure with improved articulation and posability. It includes the Science Sword.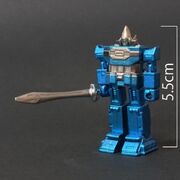 GC-09 Chogokin World's Smallest Dyna Robo (GC-09 超合金 世界最小 ダイナロボ, GC-09 Chōgōkin Sekai Saishō Daina Robo): A miniature die-cast figure of Dyna Robo. It includes the Science Sword.

Figures & Vehicles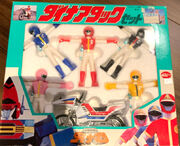 Dyna Attack Set (ダイナアタックセット, Daina Atakku Setto): A set of five bendable figures and a Dyna Falcon toy motorcycle. Each figure comes with a Dyna Rod.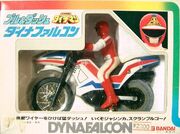 Pull & Dash Dyna Falcon (プル&ダッシュ ダイナファルコン, Puru ando Dasshu Daina Farukon): A self-propelled toy motorcycle. Comes with a Dyna Red figure in riding position.

High Dash Dyna Machine (ハイダッシュ ダイナマシン, Hai Dasshu Daina Mashin): A self-propelled toy vehicle. Two solid colored figurines of Dyna Red and Dyan Black are included.

Popinica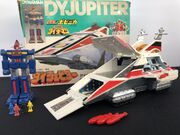 DX Popinica PC-37 DyJupiter (DXポピニカ ダイジュピター, Derakkusu Popinika Daijupitā): A small scale version of the carrier mech. Includes a minitaure Dyna Robo that can be separated at the head and hips and five mini Dynaman figurines. It has three compartments that can store Dyna Robo's components and a button on the rear releases the side hatches to reveal missile launchers.

PlaDelu (Plastic Deluxe) Mecha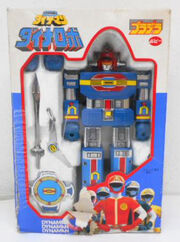 PlaDelu Dyna Robo (プラデラ ダイナロボ, Puradera Daina Robo): A non-transforming figure of Dyna Robo. It has wheels on its feet and back so the feet can be folded down to create a trailer mode. It has a rocket punch gimmick and comes with the Science Sword, Dyna Boomerang, and Dyna Shield.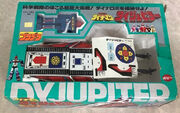 PlaDelu DyJupiter (プラデラ ダイジュピター, Puradera Daijupitā): A small version of DyJupiter with a missile launching gimmick. A Dyna Robo figurine is included in the package.

Sentai Robo Collection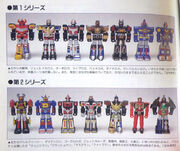 Released through 1992 and 1993, the Sentai Robo Collection (戦隊ロボコレクション, Sentai Robo Korekushon) was a line of 8.5 cm die-cast figures of the then-current and past Sentai robots. Dyna Robo was released in wave 1.

Vinyl Figures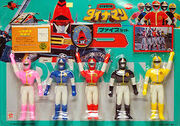 Dynaman 5 Set (

ダイナマン5セット

Dainaman Faibu Setto

)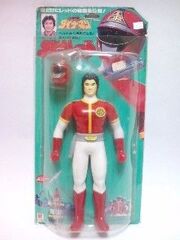 DynaRed Soft Vinyl Figure
Miscellaneous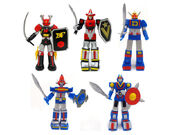 In 1999, Bandai produced the gashapon set HG Series EX Super Sentai Robot Chronicle (HGシリーズ EX スーパー戦隊ロボット列伝, Echi Jī Shirīzu Ekusutora Sūpā Sentai Robotto Retsuden). It was a collection of the first five Super Sentai giant robots: Battle Fever Robo, DaiDenzin, Sun Vulcan Robo, Goggle Robo, and Dyna Robo.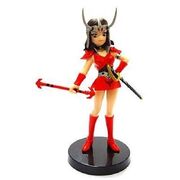 Girls in Uniform (ガールズ・イン・ユニフォーム, Gāruzu in Yunifōmu) was a line of statuettes of heroines and villainesses released by Bandai. Princess Chimera was released in volume 1.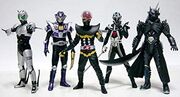 Dark Knight was featured as part of Ultimate Solid: The Dark Heroes (アルティメットソリッド ザ・ダークヒーローズ, Arutimetto Soriddo Za Dāku Hīrōzu), a gashapon set released by Bandai in 2007.

Cosmo Fleet Special Super Sentai Ranger Mechanix 2 (コスモフリートスペシャル スーパー戦隊 レンジャーメカニクス2, Kosumo Furīto Supesharu Sūpā Sentai Renjā Mekanikusu 2) is the second line of mini mech figures produced by Megahouse in 2013. Each set came with an 8 to 9 centimeter tall robot figure and a carrier mech. The Dynaman set includes DyJupiter, Dyna Robo, Dyna Mach, Dyna Mobile, and Dyna Garry.

References
Community content is available under
CC-BY-SA
unless otherwise noted.