Jaakuryuu Dryken (邪悪竜ドライケン, Jaakuryū Doraiken, lit. Wicked Dragon Dryken) is one of the Jaakuryuu.
Character History
Creator King Ryuuwon sent this first Wicked Dragon to find the Scale of the Salamander. Ryuuwon attempted to transform Dryken into an all-powerful giant dragon by using the Scale of the Salamander and by increasing the temperature of the factory they were in to two thousand degrees. This increase in temperature set the building aflame, but DaiBouken Mixer used the Wall Shoot technique to contain the explosion in Hyper Concrete. But it turned out the Salamander's Scale was taken out of the building before the explosion. Dryken himself ultimately fell victim to the Scale's power when Satoru used it to activate the Accel Tector for the first time and used the Dual Crasher Mixer Head to encase Dryken in Hyper Concrete and used the Drill Head to drill him into oblivion.
Arsenal
Notes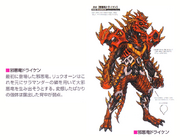 Portrayal
Behind the Scenes
See Also
References
Community content is available under
CC-BY-SA
unless otherwise noted.