"I'm sorry, Rangers, but we simply do not have enough information to proceed."
This article is a stub, meaning it needs more information to be a full article. You can improve this RangerWiki article by expanding it if more information is available. If you believe this article to be a dead stub, it may need to be deleted in accordance with the Style Guide.
The Drunn Soldiers (ドルン兵, Dorun-hei) are the footsoldiers of the Druidon Tribe who are commanded by the generals. In episode 32, a Drunn Soldier was the host of the Jack-o'-lantern Minosaur.
Characteristics
The Drunn Soldiers are alive armors, their heads are actually metal helmets. Having a breastplate With the symbol of Druidon Tribe and shoulder pads. Also having a black uniform with gloves and boots both brown and a belt with a plaid buckle.
Powers and Abilities
Portal creation: They can teleport with a chess-based laser portal.
Arsenal
Spear: They wield a spear for offensive combat.
Shield: They wield a shield for defense.
Behind the Scenes
Portrayal
Notes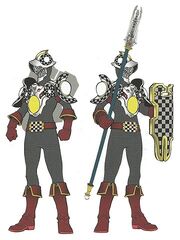 Their design appears to be based on the typical motifs of Spanish conquistadors and pawn pieces.
The Drunn soldiers are the first foot soldiers to own a shield. So they are also the first to have a means to self defense.
Appearances
See Also
References
Community content is available under
CC-BY-SA
unless otherwise noted.