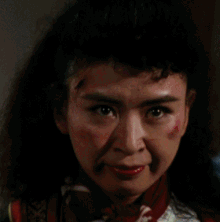 Dora Mirage (ドーラミラージュ, Dōra Mirāju, 46, 49 & 50):
History
A mirror-covered beast who turned out to be the final Dora Monster unleashed by Bandora. He posed as TyrannoRanger and disguised four Golems as the Fake Zyuranger (偽ジュウレンジャー, Nise Jūrenjā), doppelgängers of the original Zyurangers in a plan to frame them. Once exposed, it fought the Zyurangers personally until it was killed by the Howling Cannon.
It, along with Dora Ninja, Dora Fake, and Dora Chimaera later return as ghosts in Bandora's Magic Realm when the Zyurangers went to rescue their Guardian Beasts.
Forms
Video Game appearances
Super Sentai Battle Base
Dora Mirage is among the vast pantheon of villains which appear in the mobile game Super Sentai Battle Base.
Behind the scenes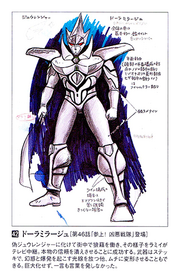 Portrayal
It is portrayed by Rumi Watanabe (渡辺 るみ, Watanabe Rumi) in its human guise. It never actually speaks in any of its form so is the only Dora Monster not to have a voice actor.
Notes
Dora Mirage mirrors the earlier Dora Fake as they both share the same trademark ability, but while Dora Fake took the form of the Guardian Beasts, Dora Mirage took the form of Tyrannoranger.
See Also
Community content is available under
CC-BY-SA
unless otherwise noted.