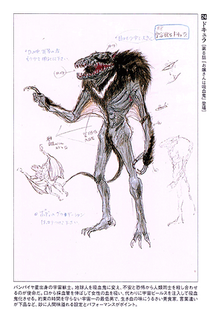 Dokyura is a Space Beast of the Great Star League Gozma
Character History
A bat-like Space Beast from the planet of vampires. Has the ability to fly and fight with sharp teeth and claws. His special technique is to "bite" people using a tube that emerges from his mouth; the bite infects anyone hit by it that he chooses with a virus that turns them into a pale-skinned bloodsucker similar to the legends of vampires. The people infected can turn back to normal, but will become vampires again when Dokyura emits an ultrasonic wave that awakens the effect of the virus. Although initially protecting himself with an army of young females he created on Earth prior to meeting with the Gozma, the Changeman are able to seize most of the infected girls and place them in a room where his ultrasonic shriek would not reach them; while Oozora uses a girl he befriended infected by the alien bloodsucker to draw him out and defeat him in an aerial battle before destroying him with the Power Bazooka, then Change Robo.Ep. 8: The Young Lady is a Vampire
Personality
Dokyura loves blood so mutch so he actully ditch his first meeting with the general to go sample some of earths blood. them when Navigator Gator compliad about it he drank his blood. hes very picky about what kind of blood he likes telling Gato his blood his terrible. he was also a coward who used his victims has human shields ran away even when he had the advantage and his the only giant monster to ever try and run from Change Robo.Ep. 8: The Young Lady is a Vampire
Modus and Arsenal
His plan is to "bite" people using a tube that emerges from his mouth;to spread the vanpire viruse on earth. eatch bite infects anyone  biten by him hit by him into a pale-skinned bloodsucker similar to the legends of vampires. and like the vampire of legend they could also turn others they bite into vampires. in Gozmas own worlds he'd turn them into beast that hate each other and tair there own planet apart. the people in question could beturned back and forth between humans and vampire form. by a speacle ultrasonic wave created by Dokyura.  that awakens the effect of the virus. thous alowing the poeple inquestion to act has sleeper agents going about there normal live untill summoned to expaned the hord. all vitims turned are shown to be young woman but its unclear if only they can be turned or if this just Dokyuras preferents.Dokyura him self used the girles has human sheilds agienst the Chargmen. when fighing on his own he had the ability to fly and fight with sharp teeth and claws.
Notes
Portrayal
Behind the Scenes
References
Community content is available under
CC-BY-SA
unless otherwise noted.