The Dino Lab is the secret base of the Dino Rangers.
The underground Dino Lab is a high-tech laboratory hidden beneath
Tommy Oliver's
house in Reefside. There are three secret passageways that lead into it: one from above his house that descends down a staircase; one from the woods; and one that acts as a garage door for the rangers' vehicles, which can only be opened from inside of the lab. The first two are revealed by pulling jawbones on dinosaur skeletons, while the third is indistinguishable from an ordinary rockface when closed.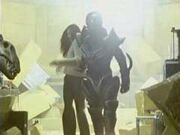 The Lab itself is a large brick and stone chamber, containing various dinosaur fossils, machines, and a central computer that allows the rangers to monitor the city and contact each other. The rangers' Raptor Riders, Raptor Cycles, Dino ATV's, and the Hovercraft Cycle are also stored here when not in use.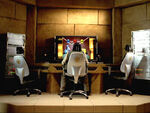 Zeltrax invades and single-handedly destroys the lab in Thunder Struck, the two part series finale.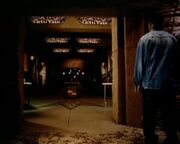 See Also
Community content is available under
CC-BY-SA
unless otherwise noted.