Wiki Targeted (Entertainment)
Play Sound
"Miss America!"
―Miss America's roll call
Diane Martin (ダイアン・マーチン, Daian Māchin) was the original Miss America (ミスアメリカ初代, Misu Amerika Shodai) of Battle Fever J.
Biography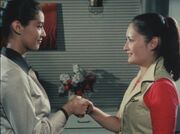 She was an FBI agent who joined the Fever team to avenge her father Bosner, who was slain by Egos. She was armed with throwing knives. She performed a disco dance during the team's roll call. After she was wounded by the Dracula Monster, she returned to the United States and was replaced by Maria Nagisa. Diane has a sister named Catherine.
Turboranger
The footage for Battle Fever J seen in the first episode of Turboranger ends up using clips which show the original Miss America, Diane Martin.

Personality
To be added.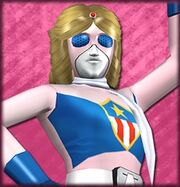 Her special technique is the Disco Dance! Her weapon is a physical ability that utilizes her lithe body!
Super Sentai Legend Wars
Miss America is among the vast pantheon of Rangers who feature in the mobile game Super Sentai Legend Wars.
Miss America
Mecha
Arsenal
Transformation and Roll Call
Design
Miss America wears a two-piece suit, with a pink one-piece with sleeves and a brown set of stockings that flow down towards her feet. Her gloves and boots are both blue in color accentuated with a white scarf. She wears a black belt with a metal buckle and the letter "A" on it, which stands for "America". A shield on her chest possesses the "Stars and Stripes" of the flag of the United States; a star in the top of the field represents the number "5". She wears a pink mask on her helmet with "eyes" which are similar in form to the masks of Gorenger and J.A.K.Q. Beneath the mask is a rounded triangle in gray with a sculpted nose and mouth. Unique to Miss America compared to her teammates (and in fact all Sentai heroes) is a blonde wig she wears on top of her helmet with a red gem around her forehead holding it on top.

Behind the scenes
Portrayal
Diane Martin is portrayed by Diane Martin. As Miss America, her suit actors were Lisa Komaki, Eiko Onodera and Tsutomu Kitagawa.
Notes
Appearances
See Also
External links