Devilcanth (デビルカンス, Debirukansu, 2): is a Mecha Gigan of Neo Empire Gear, assisting Farrah and Psygorn
Overview
Devil Canth has an extendable claw-like head in the middle of its body that can attack opponents like a whip and has a pair of rapid fire missile launchers on the head.
History
Devil Canth is sent by Doctor Man after Farrah and Psygorn fail to capture Mika Koizumi and gain information from her about Bioman. It attacks with its extendable head until Bio Robo summons its Super Maser; stabbing the head with a downwards thrust destroying it, it finishes the Mecha Gigan with the Dashing Beam attack.
Notes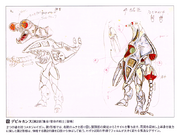 to be added
References
Community content is available under
CC-BY-SA
unless otherwise noted.