"This is just the calm before the REAL storm!"

―Desperaino when becoming a Mega-Monster.
"So this is despair? This isn't delightful at all! Ahh!"

―Desperaino's final words before his second death.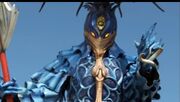 Character History
Despraino is a despair/rain/umbrella-themed Nighlok who has the ability to open a rain cloud above his victims' heads, causing them to encounter the most terrible misery of all: The loss of hope. He is armed with a spear that shoots bullets. He can open the umbrella-like object on his head to fly so he can have an advantage over land-ridden fighters. After Mike learns to master the forest powers, he is destroyed by a forest attack. He was resurrected as a mega-monster but he was then destroyed by the Samurai Battlewing.Forest for the Trees
Desperaino later attended a Halloween party at the Nighlok Heaven where he recounts his battles with the Samurai Rangers. Party Monsters
Powers and Abilities
Flying: By opening the umbrella above his head, he is able to fly.
Despair Cloud: He can create a cloud of despair to make anyone who touches the rain full of despair.
Arsenal
Spear: Desperaino is armed with a spear in battle.
Lazers: He can also fire lazers from his spear.
Behind the Scenes
Portrayal
Notes
He is voiced by the same voice actor as Yamiror.
Appearances
See Also
Community content is available under
CC-BY-SA
unless otherwise noted.