A list of merchandise for the 4th Super Sentai series Denshi Sentai Denziman.[1]
Roleplay Items
Denzi Belt (デンジベルト, Denji Beruto) is a set of the Denzi Stick, holster, chest badge, and Denzi Red's belt buckle. The Denzi Stick can launch balls from both ends and the balls can be stored on the belt.
DX Mecha
Box Art Gallery
Action Figures
Chogokin Figures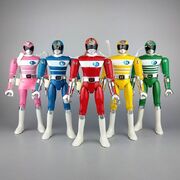 The first Chogokin figures to be produced with the body style that became the default. Each figure is designated as GB-16 and comes with a removable scarf, Denzi Stick, and a gun.
DenziRed
DenziBlue
DenziGreen
DenziYellow
DenziPink
GB-15 Chogokin DaiDenzin: A transforming figure at a smaller scale than the DX version. It has a rocket punch gimmick and comes with the Denzi Sword and Denzi Ball. It was later released overseas as under Bandai America's "Godaikin" label.

World Hero Series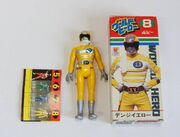 Popy World Hero Series (ポピーワールドヒーローシリーズ, Popī Wārudo Hīrō Shirīzu) was a line of 10 centimeter tall plastic action figures. All five Denziman members were produced. No accessories were included other than a removable scarf. A storage case shaped like Denzi Red's head and shoulders was also released.

Popinica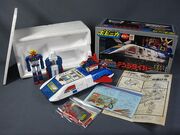 Popinica PB-96 DenziTiger (ポピニカ デンジタイガー, Popinika Denji Taigā): A small-scale toy of DenziTiger that comes with miniature DaiDenzin and Denzi Fighter figures. DenziTiger opens to reveal a launching bay and has solid molded tank treads that can be folded up. Two missile launchers are located on top and am extendable crane arm is located in the rear.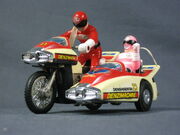 Popinica PB-97 Denzi Machine (ポピニカ デンジマシーン, Popinika Denji Mashīn): A motorcycle with sidecar that includes two vinyl figures of Red and Pink.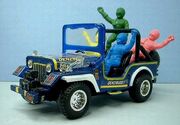 Popinica PB-98 Denzi Buggy (ポピニカ デンジバギー, Popinika Denji Bagī): The team's Jeep that comes with four solid colored vinyl figures of Green, Blue, Pink, and Yellow. A missile launcher can be mounted on the overhead bar.

Aruku Aruku Series
Popy's Aruku Aruku Series (あるくあるくシリーズ, Aruku Aruku Shirīzu, "Walking Series") was a line of wind-up tinplate robot toys. A DaiDenzin figure was produced for Denziman.

Sentai Robo Collection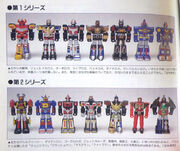 Released through 1992 and 1993, the Sentai Robo Collection (戦隊ロボコレクション, Sentai Robo Korekushon) was a line of 8.5 cm die-cast figures of the then-current and past Sentai robots. DaiDenzin was released in wave 2.

Vinyl Figures
DaiDenzin Super Fortress Set (

ダイデンジン 超要塞セット

Daidenjin Chōyōsai Setto

)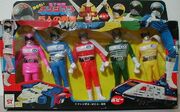 5 Denziman Heroes Set (

デンジマン 5人の勇者セット

Denjiman Gonin no Yūsha Setto

)
Miscellaneous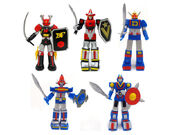 In 1999, Bandai produced the gashapon set HG Series EX Super Sentai Robot Chronicle (HGシリーズ EX スーパー戦隊ロボット列伝, Echi Jī Shirīzu Ekusutora Sūpā Sentai Robotto Retsuden). It was a collection of the first five Super Sentai giant robots: Battle Fever Robo, DaiDenzin, Sun Vulcan Robo, Goggle Robo, and Dyna Robo.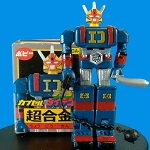 Bandai Capsule Chogokin is a gashapon line of miniature versions of Chogokin figures that were produced by Popy in the 1970's and 80's. DaiDenzin was included in the fifth wave released in 2003. It can be transformed into Denzi Fighter and includes the Denzi Sword and Denzi Ball.

CharaEgg Sentai Hero Series (キャラエッグ 戦隊ヒーローシリーズ, CharaEgg Sentai Hero Series) was a line of mini figures in blind boxes. This second and final set consisted of 17 different figures, including the Denziman team along with the Gaorangers and Jetman . A display box was also released and included figures of a Dustler, Grinam Soldier, and two Orgettes: one with standard colors and a red version.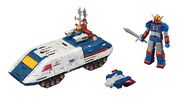 Cosmo Fleet EX Super Sentai Ranger Mechanix (コスモフリートコレクションEX スーパー戦隊 レンジャーメカニクス, Kosumo Furīto Korekushon EX Sūpā Sentai Renjā Mekanikusu) is a line of mini Mecha figures that was produced by Megahouse in 2012. Each set came with an 8 to 9 centimeter tall robot figure and a carrier mech. The Denziman set includes DenziTiger, DenziFighter, and DaiDenzin. Metallic versions were later released in 2013.

References
Community content is available under
CC-BY-SA
unless otherwise noted.