"Never put too many fish into one bowl...!"

―Final words before Death
Demeran Yatmis (デメラン・ヤトミス, Demeran Yatomisu) was a goldfish-themed Gangler Monster of the Interdimensional Crime Group Gangler, equipped with the "Purple Rain/La pluie violette" Piece from the Lupin Collection.
Physical Appearance
Demeran Yatmis's head is a white skull head with red gold fish hair, his arms are red goldfish arms wit green hands, his body is a green cracked vase with a Gangler safe on it, his thighs are a red gold fish head with black and white eyes, his legs are green legs and his feet is black rock toe nails, his weapon the Popoinopoi is a green poi staff.
Character History
to be added
Personality
to be added
Powers and Abilities
Water spray: Due to the "Purple Rain/La pluie violette" treasure equipped in his safe, Demeran can shoot water from his mouth at a high velocity. The downside to this ability is Demeran needs to gather moisture from the air in order to use it.
Fish Bowl Barrier: After being enlarged, Demeran can create giant fishbowl to protect himself from incoming attacks.
Arsenal
Popoinopoi (ポポイノポイ): A staff that resembles a poi (an item that is used in goldfish scooping). The top part of the staff can also be used to capture anyone or anything and is placed in his fishbowl.
Profile
Height: 185 cm (Giant: 46.3m)
Weight: 204 kg (Giant: 510 tons)
Criminal Record: Abduction of goldfish, Keeping captives in fishbowls
Lupin Collection: "Purple Rain/La pluie violette" Water Gun
Gangler Safe Location: Chest
Password Number: 7-0-8
Behind the Scenes
Portrayal
Notes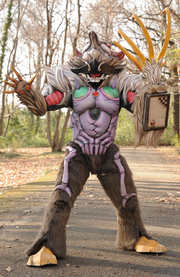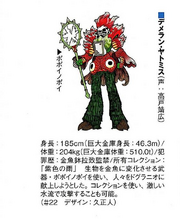 Animal Theme: Goldfish
Possible Prehistoric Basis: Hsianwenia
His name comes from the Japanese word for telescope eye goldfish (

出目金

Demekin

).
Demeran's suit contains similar elements of Merg Arita's suit.
Demeran Yatmis is the first ever goldfish-themed monster in the Super Sentai series.
References
TV Asahi's page on Demeran Yatmis
Community content is available under
CC-BY-SA
unless otherwise noted.