"According to the computer, Goggle Caesar is at a disadvantage fighting such small units."
"If they're using jets, we should too."
"GoggleRed, attack with Goggle Jet."
Death Fighters are the aerial vehicles of Deathdark. They fly forth from within Deathtopia using the same hatch utilized for Kong distribution. They are armed with a single vulcan gun at the nose. They were best met by GoggleRed's Goggle Jet.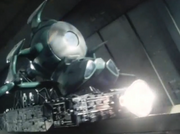 Community content is available under
CC-BY-SA
unless otherwise noted.