Danganloid 2 (ダンガンロイド2 Danganroido Tsū) was created by Enter when he used the "shoot ver 2" Metavirus to infect a toy pistol, giving the Metaloid the ability to destroy the Go-Busters with extreme prejudice to avenge Messiah. In the process, Danganloid 2 is sent to Makuu Space where he becomes three times more powerful before being destroyed by the team work of Red Buster and Gavan.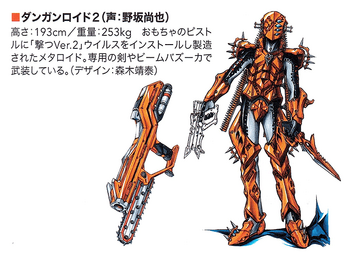 Notes
Identification Number: D-13
Install Metavirus: UTSU VER.2
Production Motif: Toy Pistol
Height: 193cm
Weight: 253 kg
Notes
Conception
See Also
Community content is available under
CC-BY-SA
unless otherwise noted.