Daigo of the Heavenly Phantom Star's grandson is Shishi Ranger (シシレンジャー, Shishi Renjā) and the leader of a new team of Dairangers composed of the previous Dairangers' grandchildren, formed to fight the returned Gorma Tribe 50 years after the previous Dairangers defeated them.
ShishiRanger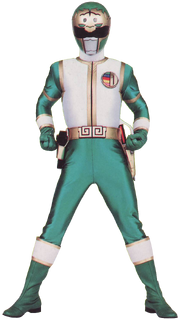 Mythical Chi Beast
Arsenal
Lion-Fist
Heavenly Phantom Star Mist Concealment
Heavenly Phantom Star RodArrow
Lion-Fist Empty Innocence
Notes
He is the first, and so far only, Sentai Green to be a leader of a primary team.

He is also the first Sentai leader who isn't a Red Ranger, followed by Tsuruhime.
Behind the scenes
Portrayal
As with the other future Dairangers, Daigo's grandson was played by Daigo's actor, the late Tatsuya Nōmi (能見 達也, Nōmi Tatsuya). As ShishiRanger, his suit actor was Tsutomu Kitagawa (喜多 川務, Kitagawa Tsutomu).
Appearances
See Also
Community content is available under
CC-BY-SA
unless otherwise noted.