"My arms!"
―Pachacamac XIII when his arms had been obliterated by the Gekiranger powers and his final words before his initial death.
"I will kill all of you in the name of Pachacamac!"
―Pachacamac XIII upon growing.
"This is...?!"
―Pachacamac XIII reacting to GokaiOh's Gokai Dai Geki Geki-Ken attack and his final words before his death.
Pachacamac XIII (パチャカマック13世, Pachakamakku Jūsansei) is the son of Cosmic Kenpō Master Pachacamac XII and successor to the Cosmic Kenpō (宇宙拳法, Uchū Kenpō) fighting style, who works for the Zangyack as an Action Commander.
Biography
After Barizorg and Damaras introduces him and his Cosmic Kenpo lineage to Warz Gill, Pachacamac XIII deploys to use his kenpo against the Earth's buildings. While he uses his Magnetic Fist to steal the Gokaigers' weapons, Gokai Red, Blue, and Yellow easily adapt by using their Gaoranger counterparts to drive him off for now. While Warz chews him out, Insarn defends him so she can make a major upgrade to his Cosmic Kenpo. Returning the next day, he ends up fighting Gokai Red, Blue, and Yellow again while Ahim and Don train in their own kenpo skills under Jan Kandou (who is actually the tiger child iin Navi's clue the space pirates are searching for at the time of Pachacamac's attack.
The three get around the Magnetic Fist by holding on to their weapons and then assuming the form of the Sun Vulcan, only to unveil the Electromagnetic Cannon modification Insarn gave him. But the remaining two appear, allowing the whole team to assume the form of the Gekirangers which destroys the cannon and the arms on his shoulders. After being defeated by the Gokaigers' Gokai Blast Final Wave, Insarn, unhappy that her modification went to waste enlarged Pachacamac XIII, who withstands GokaiOh's cannon balls, but the Greater Power of the Gekirangers is gained, which allows GokaiOh to summon Qi-based images of the Geki Beasts via the Gokai Dai Geki Geki-Ken attack, destroying the Cosmic Kenpo master.
Stats
Originally, he could use the Cosmic Kenpo move Magnetic Fist (磁石拳 Jishakuken), but Insarn modifies him to execute the Cosmic Science Kenpō Electromagnetic Cannon (宇宙科学拳法・電磁砲 Uchū Kagaku Kenpō Denjihō).
Height - 201cm (Giant Form - 50.3m)
Weight - 125kg (Giant Form - 312.5t)
Behind the Scenes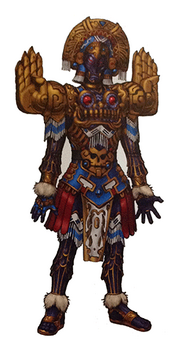 Portrayal
Yasunori Masutani, who voices Pachacamac XIII, also voiced his predecessor, Cosmic Kenpō Master Pachacamac XII, in Juken Sentai Gekiranger vs. Boukenger.
Notes
Just like his father, Pachacamac XIII has an Incan motif.
Pachacamac XIII's mother is unknown.
He is the first Gokaiger monster that is an identical son to a previous Sentai villain.

He is also the first to be defeated by a Greater Power that is not an alternate Mecha combination.
Appearances
External links
See Also
Community content is available under
CC-BY-SA
unless otherwise noted.