"Idiots! You can't even capture a single girl?! Today.....the Boss will be coming to check how things are going."

―Corrupted Financier Dogoal (human)'s first words
"I couldn't be a moneylender if I gave up that easily!"
―Corrupted Financier Dogoal's first words being enlarged

Corrupted Financier Dogoal (悪徳金融業者・ドゴール, Akutoku Kinyū Gyōsha Dogōru, 33): He ran a loan shark business for the Don, kidnapping the family of bankers in debt to the Don. The banker man's daughter, Emily Sakura, escaped Dogoal's men and she was soon under Ayase's protection, taking her to Asagiri Mountain where she and her family used to have fun before her mom died. Dogoal managed to catch up to them and battled TimeBlue while the other Timerangers saved Mr. Sakura. Through defeated by TimeBlue, Dogoal enlarged as the others arrived and formed Shadow Alpha with V-Rex supporting it, using a combo Blizard Slash/Max Blizzard to bring him into custody.
Notes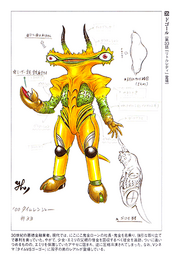 Gallery
See Also
Community content is available under
CC-BY-SA
unless otherwise noted.