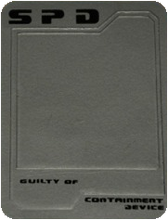 Containment Cards or Confinement Cards are used by Space Patrol Delta officers to capture criminals and monsters that have proven themselves to be especially dangerous. They are produced when the Judgement Scanners developed by Kat Manx determine whether or not individuals are innocent or guilty of specific crimes and the Scanner's Confinement option is used to trap suspects inside Cards.
Alternatively SPD Rangers can use the Judgement Mode built into their morphers to determine suspects' fates even while piloting Zords and/or Megazords. In S.W.A.T. Mode or the S.W.A.T. Megazord they set their Delta Enforcers to Confinement Mode by each swiping an empty Card through their weapons and inserting it into their blasters; monsters will be transferred into single Cards upon destruction.
Occupants
Community content is available under
CC-BY-SA
unless otherwise noted.