Computer Engineer Gate (コンピューターエンジニア・ゲート, Konpyūtā Enjinia Gēto, 46): An arrogant figure, Dolnero used him in a plan to hold a science lab for ransom. Gate planned to blow up a reactor if a large amount of money wasn't paid out to the Don. Gate accidentally sped-up the detonation time and decided to escape when TimeFire and the City Guardians arrived. While the Timerangers stopped the self-destruction sequence, TimeFire and Gate decided to compete in a quick-draw duel. Gate enlarged and battled with the V-Rex, while the Timerangers were unable to use their TimeJets. With the TimeFlyer, V-Rex Robo was able to bring Gate into custody.
Notes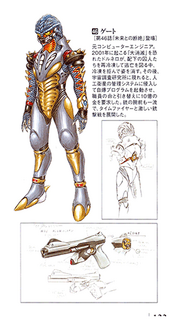 His motif is the one of a Giant girdled lizard
Depression Seals Location: Left thigh
See Also
Community content is available under
CC-BY-SA
unless otherwise noted.