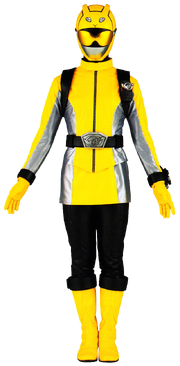 This page highlights the differences between Yoko Usami and Zoey Reeves.
| | Yellow Buster | |
| --- | --- | --- |
| | | |
| | Beast Morphers Yellow | |
Differences
| Yoko | Zoey |
| --- | --- |
| Yoko was preceded by Luka Millfy. | Zoey appeared 6 years after Gia Moran. |
| Yoko appeared 3 years before Nagi Matsuo. | Zoey was preceded by Calvin Maxwell. |
| Yoko was succeeded by Ian Yorkland, a Black Ranger, later Mio Natsume. | Zoey appeared 4 years after Chase Randall.  |
| Yoko appeared concurrently with Emily, the Yellow Samurai Ranger, and briefly Gia Moran (but as Gosei Yellow). | Zoey appeares concurrently with Banba, the Black Ranger of the Ryusoulgers, as well as the 44th and 45th Sentai teams. |
| Yoko has a Ranger Key. | Zoey does not have a ranger key. |
| Yoko debuted in Gokaiger vs Gavan. | Zoey debuted in the Boom Studios! Comic Event Shattered Grid. |
| Yoko requires a steady supply of caloric energy in form of sugar (typically eating candy) in order to prevent her weakpoint from activating due to a special program uploaded into her by Yousuke Sakurada. | Zoey requires a carrot to prevent her weakpoint from activating due to her being linked with Jackrabbit DNA which became semi-corrupted by the Evox Virus. |
| Is already a Go-Buster candidate since childhood. | Was a laundry girl of Grid Battleforce and became a Ranger by accident when the original candidate corrupted. |
| Lost her scientist mother to the Messiah incident. | Her mother is a reporter and is doing fine. |
| Yoko is a childhood friend and guardian to Ryuji. | Zoey didn't know Ravi until they became rangers and he was nothing more than a teammate to her. |
| Yoko meets Gai Ikari 3-time in a movie teamup or specials. | She never met Orion during team-up episode. |
Community content is available under
CC-BY-SA
unless otherwise noted.