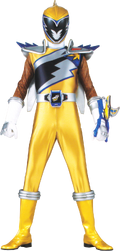 This page highlights the differences between Utsusemimaru and Sir Ivan of Zandar.
| | Kyoryu Gold | |
| --- | --- | --- |
| | | |
| | Dino Charge Gold | |
Differences
| Utsusemimaru | Ivan |
| --- | --- |
| Is a Japanese samurai. | Is a knight of Zandar. |
| Was trapped in Dogold's armor after he chased after him only to be accidentally merged. | Found the Gold Energem and bonded with it. As a last ditch effort, Fury absorbed him to gain the Energem. |
| Was trapped in Dogold's armor for 400 years. | Was trapped by Fury for 800 years. |
| Is the Sixth Ranger of the Kyoryugers, but seventh to actually appear. | Is the Sixth Ranger of the Dino Charge Rangers, and sixth to appear. |
| Was a Kyoryuger before he was absorbed into Dogold, and partner of Pteragordon. | Became a Dino Charge Ranger immediately after being released from Fury, gaining the Ptera Zord. |
| After his first fight being freed from Dogold, he decided not to join the remaining Kyoryuger because Daigo reminded him of the Shogun he failed to protect | Decided not to join the team after being freed from Fury because he wanted to enjoy his freedom. |
| He remained in the present day after the Deboth Army was defeated. | After he and the other rangers defeated Sledge in the past, he returned to his own time. |
Community content is available under
CC-BY-SA
unless otherwise noted.