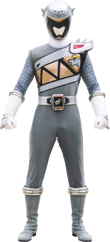 This page highlights the differences between Tessai and Prince Phillip III.
| | Kyoryu Gray | |
| --- | --- | --- |
| | | |
| | Dino Charge Graphite | |
Differences
| Tessai | Phillip |
| --- | --- |
| Is a 1500 year old monk from China, existing in the present day as a spirit. | Is the current prince of the country of Zandar in Europe. |
| Is the first Kyoryuger to exist. | Is the last Ranger chosen by the Energems. |
| Is a Spirit Kyoryuger alongside Ramirez as an addition group to the main team | Is an Extra Ranger who will appear in times of need, with no relation to James Navarro |
| Does not require a Gaburivolver to transform. | Needs a Dino Charge Morpher to morph. |
| Is not connected to Utsusemimaru. | Sir Ivan of Zandar was a royal knight of Prince Colin, Phillip's ancestor. |
| Is a wise, calm, and intelligent warrior, who teaches the Kyoryugers. | Was a proud, off-putting prince before learning what it meant to be a Power Ranger. |
| Tested the Kyoryugers through trials to see if they are worthy to control Bunpachy. | Stormed the Ranger's museum to take back Zadarian artifacts. |
| Passed his powers onto his descendant, Shinya Tsukouchi, so the Kyoryu Gray powers had a present day wielder. | Has not currently passed on his powers to anyone. |
| Is played by Masayuki Deai, who previously played Eiji Takaoka, Bouken Silver of the Boukengers in GoGo Sentai Boukenger. | Is played by Jarred Blakiston, who didn't play Tyzonn, the Mercury Ranger of the Overdrive Rangers in Power Rangers Operation Overdrive. |
Community content is available under
CC-BY-SA
unless otherwise noted.