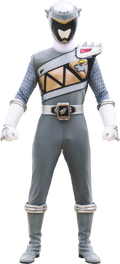 This page highlights the differences between Shinya Tsukouchi and Prince Phillip.
| | Kyoryu Gray | |
| --- | --- | --- |
| | | |
| | Dino Charge Graphite | |
Differences
| Shinya | Prince Phillip |
| --- | --- |
| Shinya is the second Kyoryu Gray, descendant and the one chosen to pick up the mantle by Tessai. | Phillip is the first graphite Ranger - the first presumably chosen by the Graphite Energem. |
| Shinya wears a yellow sash and Kyoryu Buckle like the other Kyoryugers. | Phillip has a gold sash and gold Dino Com, unlike the other Dino Charge Rangers. |
| Shinya was initially introduced as a supporting cast member/civilian, who was Tessai's descendant and a mangaka/writer. | Phillip was also initially introduced as a supporting character reclaiming Zandar's treasures from Amber Beach Dinosaur Museum after discovering they had misrepresented Zandar royalty. |
| Shinya is played by Masayuki Deai, who previously played Eiji Takaoka, Bouken Silver of the Boukengers in GoGo Sentai Boukenger. | Phillip is played by Jarred Blakiston, who didn't play Tyzonn, the Mercury Ranger of the Overdrive Rangers in Power Rangers Operation Overdrive. |
Community content is available under
CC-BY-SA
unless otherwise noted.