This page highlights the differences between Norishiron 12 and Terrorzord.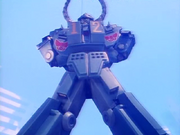 Differences
| Norishiron 12 | Terrorzord |
| --- | --- |
| Created from a cardboard model of a mecha that Exhaus provided. | Goldgoyle created it from the cardboard model of the mecha. |
| Had a red variant that was defeated in Gekisou Sentai Carranger vs. Ohranger by Sirender. | Didn't have a red variant and never participated in battles involving any of the Zeo Zords. |
| Another version was later created called Norishiron Final where Deputy Leader Zelmoda piloted it alongside, President Gynamo, and Inventor Grotch. | The final version was adapted for Power Rangers. |
| Defeated for good after youth cream caused it to revert to its original cardboard components. | The Terrorzord transformed into a camel instead when exposed to the cream. |
Community content is available under
CC-BY-SA
unless otherwise noted.