This page highlights the differences between
Mythical Chi Beast Won Tiger
and
White Tigerzord
.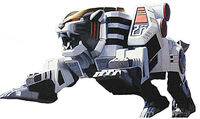 Differences
| Mythical Chi Beast Won Tiger | White Tigerzord |
| --- | --- |
| Won Tiger was created by the combined power of Master Kaku and the five main Dairangers to provide the KibaRanger with his own mecha. | Tigerzord was presumably created by Zordon and Alpha 5 to provide the White Mighty Morphin Ranger with a Zord. |
| Won Tiger was created by the Great Cosmos in a process that required the Dairangers to travel to the location where it was to come into existence. | Tigerzord was created with no apparent difficulty by Zordon and Alpha with no obligation for the Rangers to travel anywhere. |
| Shadam of the Gorma Tribe became aware of its development and attempted to prevent it from being created. | The Evil Space Aliens were unaware of the Tigerzord's creation until it first engaged them in battle, and Mondo the Magician did not appear until some time afterwards. |
| Won Tiger did not battle with Gasha Skull, and is not known to have ever been destroyed. | Tigerzord was destroyed by Rito Revolto at the start of the third Mighty Morphin Power Rangers season. |
Community content is available under
CC-BY-SA
unless otherwise noted.